Updated December 14, 2016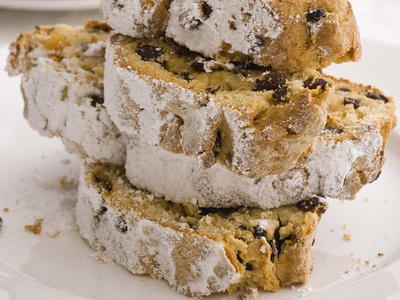 This rich, fruity, yeast bread, originally from Germany, is a great addition to your holiday baking. Wrap the stollen in freezer paper and store in the freezer for up to 6 months.
Makes1 loaf, about 16 slices

MealBreakfast, Snack, Tea
Taste and TextureButtery, Sweet
Ingredients
½ cup

raisins

¼ cup dried

currants

¼ cup dark

rum

1/3 cup plus 1 tbsp

whole milk

1/3 cup

granulated sugar

1¼ oz (7g) envelope active dry

yeast

3 cups

unbleached flour

, as needed
12 tbsp

butter

, at room temperature
2 large

eggs

½ tsp

pumpkin

pie spice
1 tsp pure

vanilla extract

¾ tsp

salt

½ cup mixed

candied fruit

peel
¾ cup chopped slivered

almonds

Confectioners sugar

, for dusting
Instructions
Combine the raisins, currants, and rum in a bowl. Let stand at least 2 hours to plump.
Mix the milk and 1 tsp of the granulated sugar in a small bowl. Sprinkle in the yeast and let stand 5 minutes, until softened. Stir to dissolve the yeast. Add 1/3 cup of flour and stir well. Cover with plastic wrap and let stand until doubled in volume, about 30 minutes.
Scrape the yeast mixture into the bowl of a heavy-duty mixer. Add the butter, eggs, remaining sugar, pumpkin-pie spice, vanilla, and salt. Mix on low speed with the paddle attachment. Gradually add the remaining flour to make a soft dough that pulls away from the sides of the bowl. Switch to the kneading hook and knead on medium speed until the dough is supple, about 8 minutes. Shape the dough into a ball.
Butter a large bowl. Add the dough and turn to coat with butter. Cover with plastic wrap. Let stand in a warm place until doubled in volume, about 1¼ hours.
Punch the dough. Transfer to a work surface and stretch into a 12 × 10in (30 × 25cm) rectangle. Drain the raisins and currants. Sprinkle the drained fruit, candied fruit peel, and almonds over the dough. Roll and knead to distribute the fruit and almonds, kneading in a bit more flour if needed. Cover and let stand for 10 minutes.
Line a baking sheet with wax paper. Roll out the dough on a lightly floured surface into a 12 × 10in (30 × 25cm) rectangle. Fold one long side over just beyond the middle, then fold over the other long side to overlap the first, curling it over slightly on top to create the traditional "swaddling" shape. Transfer to the baking sheet, cover with plastic wrap, and let stand a warm place about 45 minutes, or until doubled in volume.
Preheat the oven to 325°F (160°C). Bake the stollen for about 50 minutes, or until pale golden brown. Sift a generous amount of confectioner's sugar over it. Transfer to a wire cake rack and cool completely. Serve in thick slices.
2008 Dorling Kindersley
YOUR RECENTLY VIEWED RECIPES
We are adding your Comments.

Thank you! Your comment has been added.
We are sorry. There was an error tyring to post your rating and review.