This One Pot Beef and Tomato Macaroni Soup is a classic! It's a healthy, one pot meal made in 30 minutes or less and loaded with vegetables. Includes how to recipe video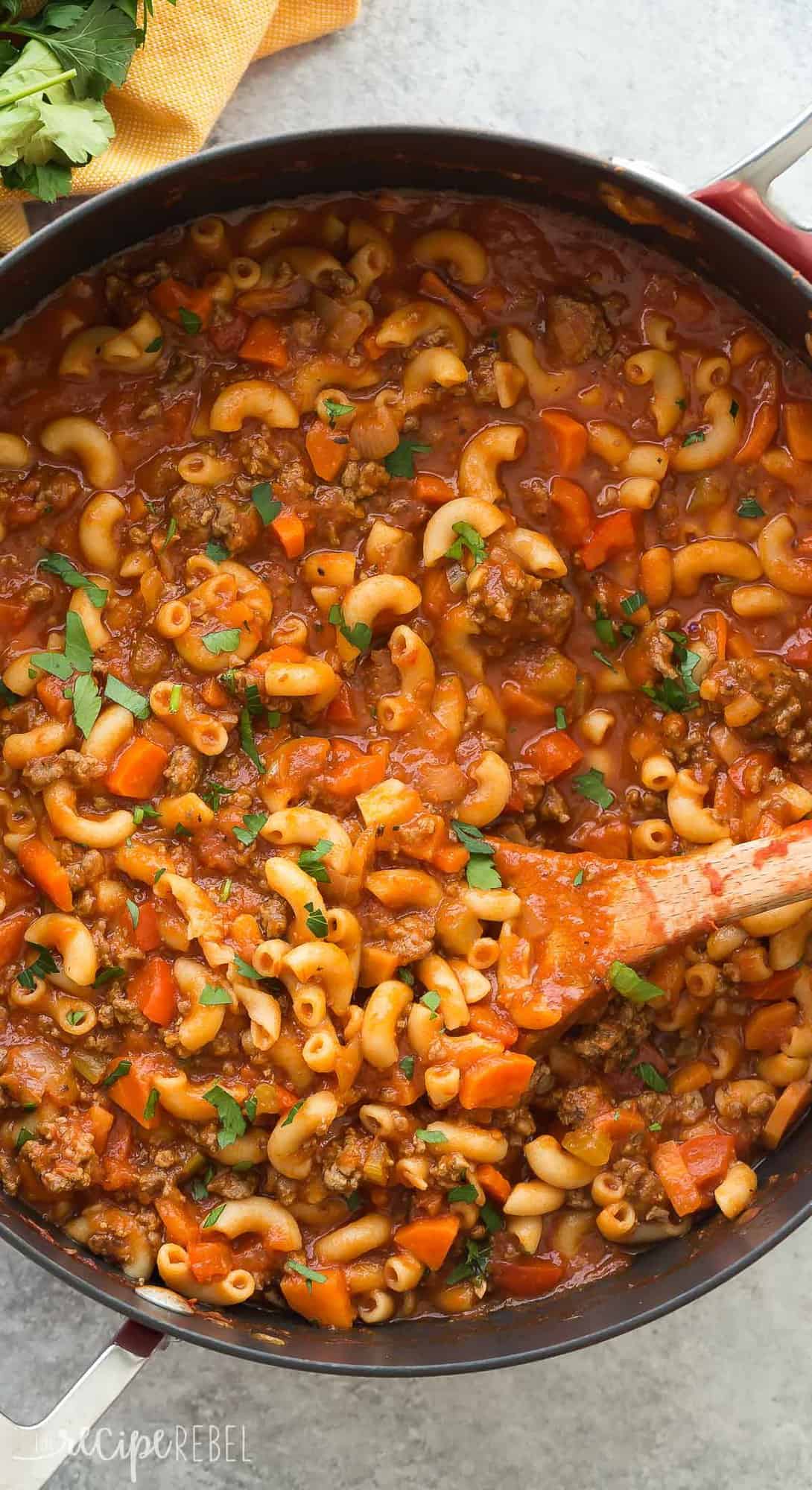 I had a totally different recipe planned for you today.
On the menu was a Tuscan flavoured soup with white beans and chicken, but all of a sudden on a chilly day I was overcome with a desire for Tomato Macaroni Soup.
I don't know why, really. All I know is that it brings back memories of high school.
I liked high school. I was lucky to have some really great friends, was pretty good in my classes and had coaches who, for some reason, allowed me to pretend to play sports along with those friends.
I'll admit, I've never been much of an athlete. I wanted to be good at sports, because my friends played sports, and it seemed like it made one really cool and popular.
I struggled through a year or two in every sport, and this soup brings me right back to the school canteen on tournament weekends.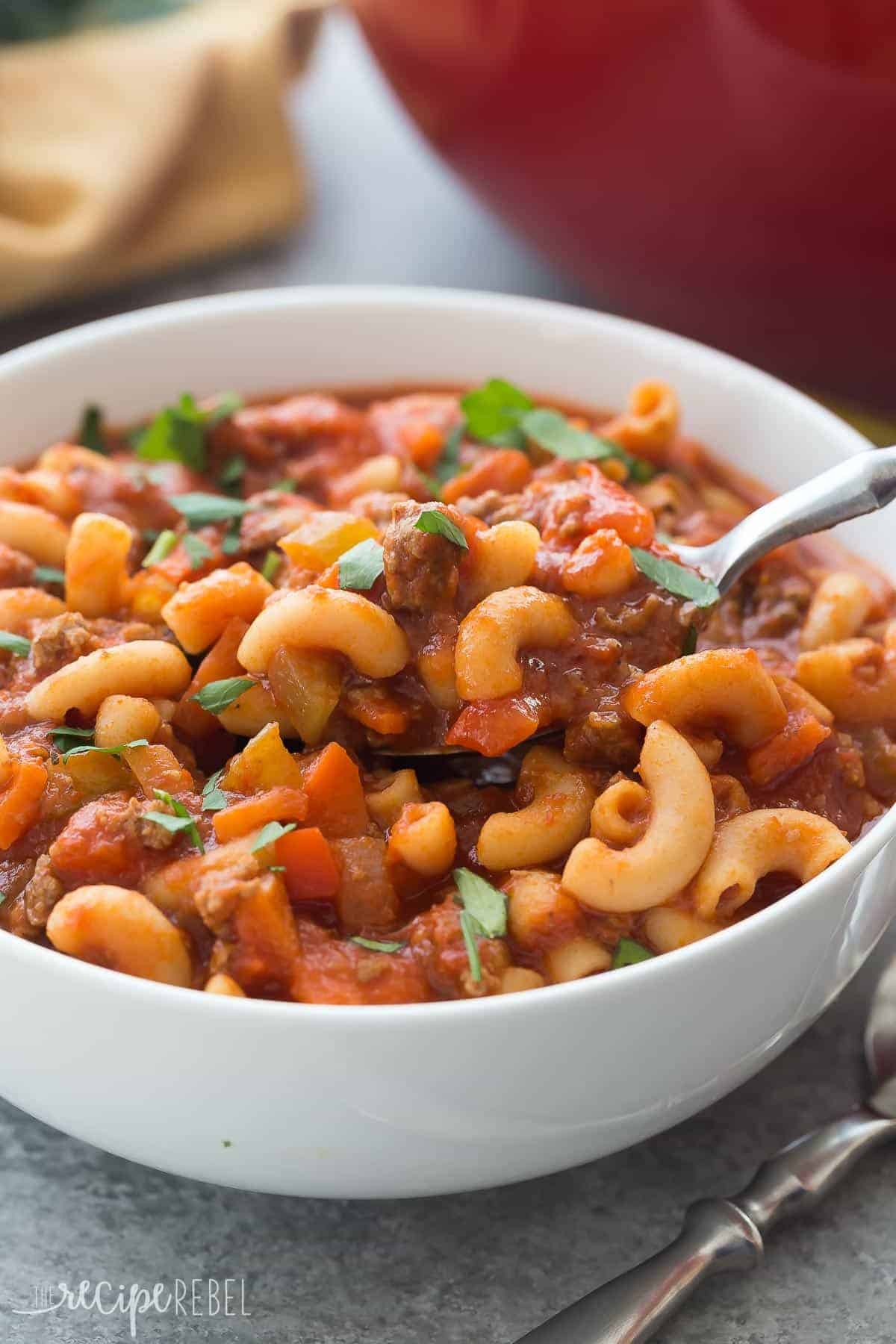 Eating at the canteen just wasn't something I did on a regular basis in school. I always had a packed lunch with my mom's famous buns and chocolate chip cookies — and I never had extra money to spend.
Tournament weekends were different though — and I got to indulge in my favourites: Tomato Macaroni Soup (yes, I've always been a soup lover!), chicken fingers, chocolate milk, Ruffles All Dressed chips. The dinner of champions!
You're a soup lover, too? Try some of my other favorites –> Lightened Up Slow Cooker Cheeseburger Soup or Slow Cooker Garlic Parmesan Chicken Stew.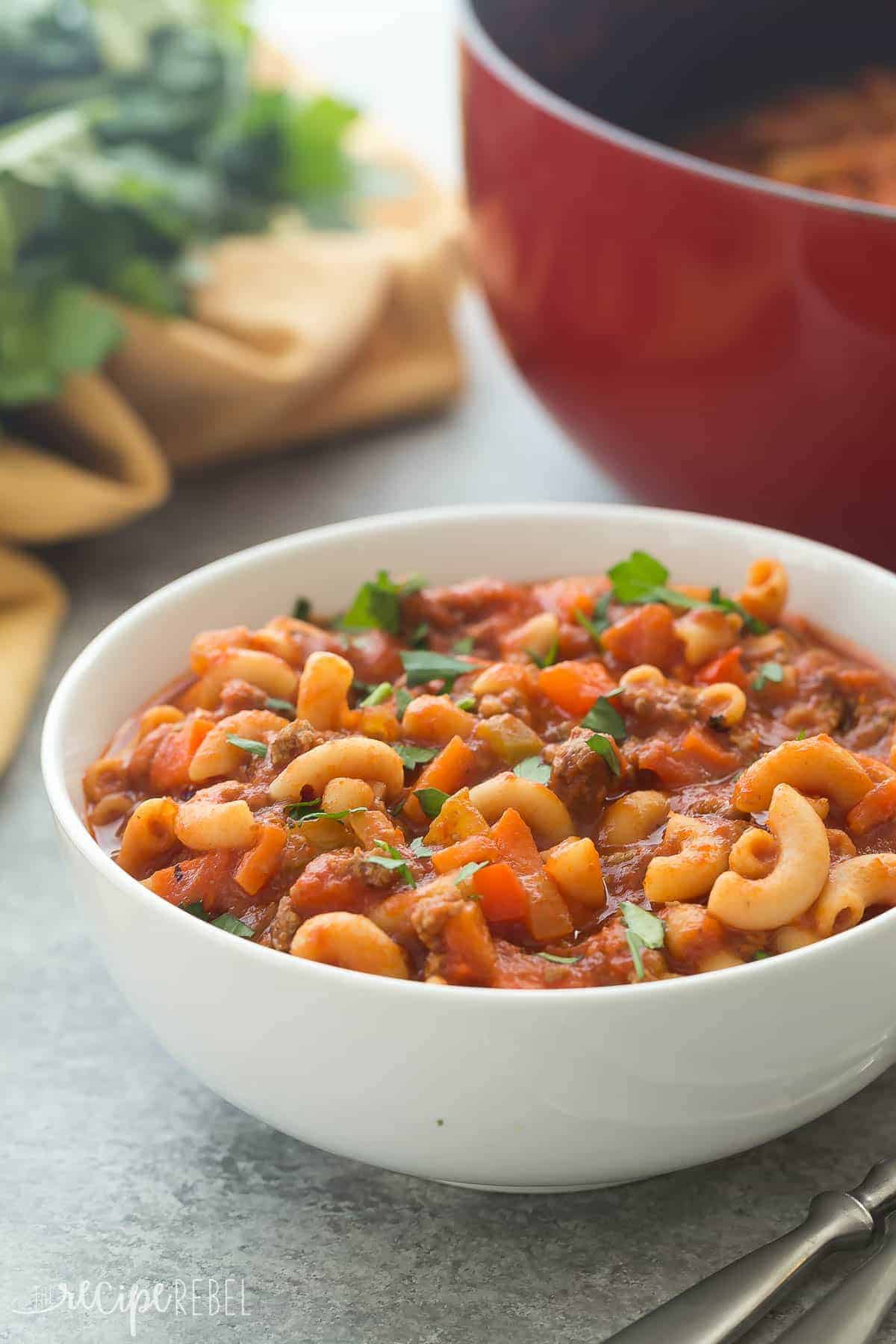 Admittedly, my version of Tomato Macaroni Soup is a little like stoup, but if you find it too thick feel free to add more liquid to thin it out a bit!
What are your favorite childhood foods?? I would love to hear!
Watch the recipe video:
One Pot Beef and Tomato Macaroni Soup
This One Pot Beef and Tomato Macaroni Soup is a classic! It's a healthy, one pot meal made in 30 minutes or less and loaded with vegetables.
Ingredients
1 lb lean ground beef
1 medium onion, finely chopped
2 large carrots, peeled and finely chopped
1 stalk celery, finely chopped
1 red pepper, finely chopped
1 teaspoon minced garlic
2 teaspoons salt
1 teaspoon dried oregano
½ teaspoon paprika
4 cups low sodium chicken broth (or use beef or vegetable)
1 (28oz) can crushed tomatoes
1¾ cups dry whole wheat macaroni pasta or other small pasta
Instructions
In a large pot, cook ground beef and onion over medium high heat just until browned, about 2-3 minutes.
Add carrots, celery, red pepper, garlic, salt, oregano and paprika and cook until vegetables are tender, about 7-8 minutes.
Add broth, crushed tomatoes and pasta and bring to a boil. Reduce heat to medium and cook just until pasta is cooked, about 6-7 minutes. Serve.
Notes
*NOTE: Nutrition information is estimated and will depend on exact serving size, types and brands of products used.
Nutrition Information
Calories: 355 Fat: 12g Carbohydrates: 40g Sugar: 11g Protein: 24g
3.2.2925
And because it's the first Thursday in March, it's #30MinuteThursday today! Some friends and I have rounded up the best 30 minute meals on the web. Check them out below!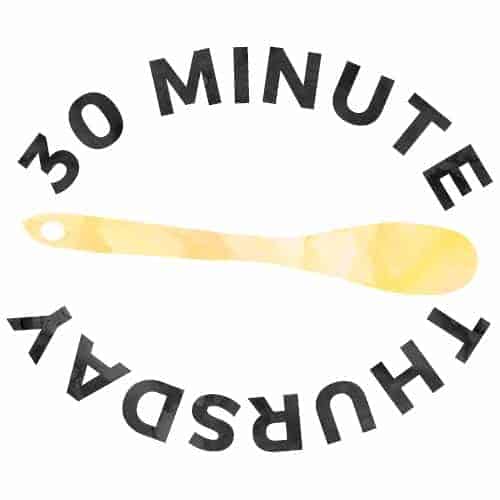 Baked Chicken Ranch Taquitos from Pumpkin 'N Spice
Sheet Pan Lemon Garlic Salmon and Asparagus from Kristine's Kitchen
Honey Garlic Chicken Stir Fry Noodles from Savory Nothings
One Pan Italian Pasta from My Kitchen Craze
Asian Lemon Chicken from Life Made Sweeter
Spicy Sausage, Kale and Potato Soup from Floating Kitchen
Sheet Pan Chicken Fajitas from Bake.Eat.Repeat.
Easy Thai Vegetable Pita Pizzas from She Likes Food
Guinness Beef Chili from Flavor the Moments