German chocolate cookie balls are soft, chewy, and extra chocolatey, topped with coconut pecan frosting and chocolate drizzle.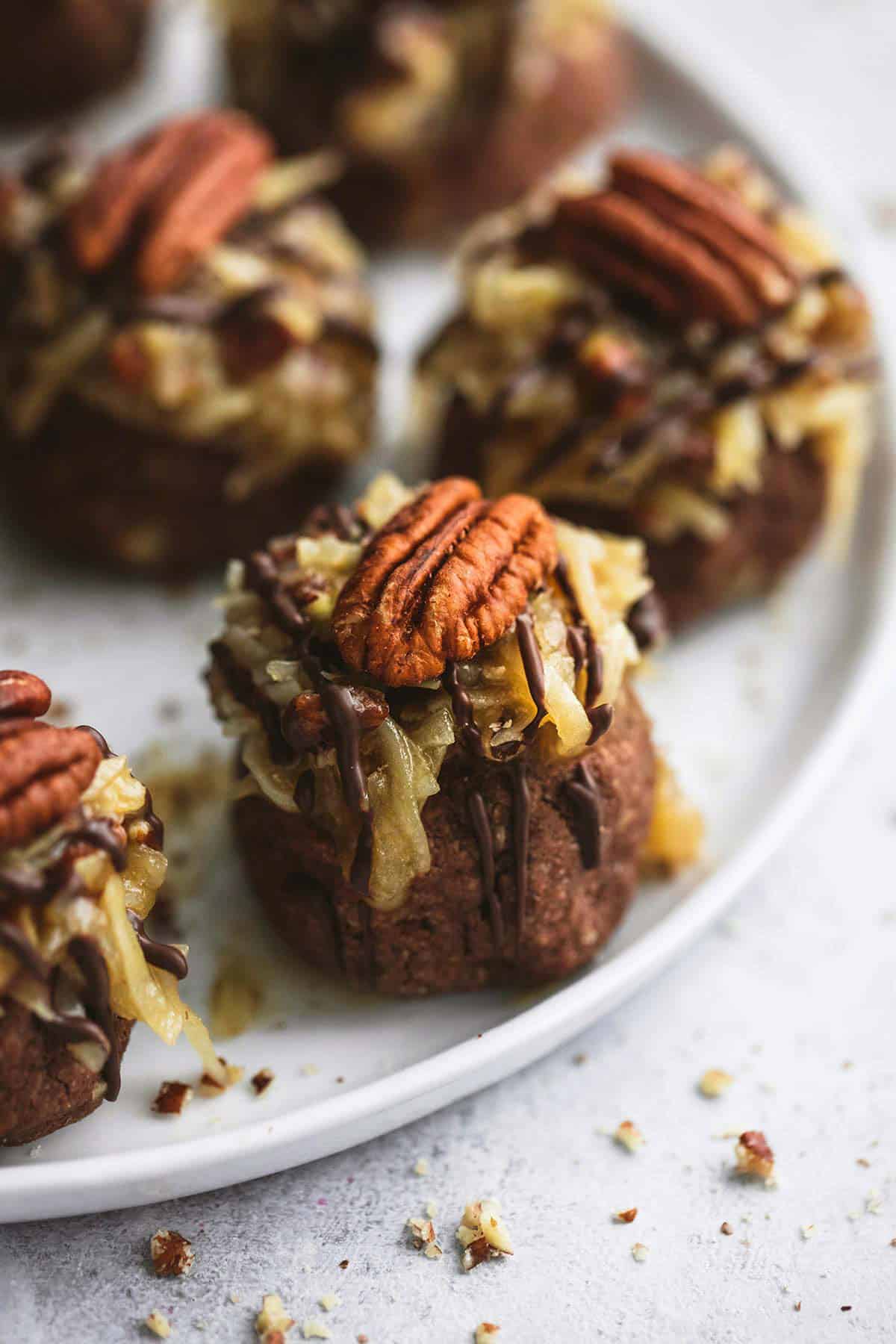 Alright, I'm just gonna give you the heads up and let you know I took about three thousand and seven pictures of these decadent little treats so if you're not in the mood to look at them all and/or hear me blab about cookies and my ever-expanding love with Christmas trees, feel free to speed-scroll down to the recipe and be on your merry way. No hard feelings I promise.
And if you are still hanging around at this point, let's talk COOKIES! And Christmas trees. First cookies though. These soft and chewy chocolatey chocolate cookie balls are pure heaven. In my opinion though you could top just about anything with this coconut pecan frosting and I would be in heaven.
In 8th grade my friend Courtney's mom made her a German chocolate cake for her birthday and I swear to you I ate at least a third of that 3 layer, 8-inch tall cake. It was my first run-in with German chocolate anything and one bite was all it took to make me fall hard. I mean gooey coconut frosting with chocolate and pecans and CAKE. My life has never been the same since, in the best way possible. These German chocolate cookie balls take me back to my 13 year old self chowing down on GCC at Courtney's. So maybe on top of making you crave them on the regular, these cookies will also make you a little nostalgic.
Now on the subject of Christmas trees. Let's take a vote. Is it entirely absurd if I am currently fighting the urge to put a Christmas tree in every room of our house? In the old house we had one tree, but our new place is laid out differently and I'm feeling this need to see a tree sparkling with twinkle lights from every corner of the house. Tell me, do you have a Christmas tree? If so, how many? And how many is too many….? My mother has two, my mother in law technically has six now…… I feel like there is probably some safe middle ground, yeah? I need this information to present my case to the husband ya know.
Until I get this Christmas tree debacle sorted out, I'll be eating these German chocolate cookie balls with vigor. They help clear the mind for these kinds of big, important decisions.
German Chocolate Cookie Balls
German chocolate cookie balls are soft, chewy, and extra chocolatey, topped with coconut pecan frosting and chocolate drizzle.
Author: Tiffany
Recipe type: Dessert
Serves: 24
Ingredients
½ cup butter, softened
2 tablespoons sugar
1 teaspoon vanilla
¾ cup finely chopped Diamond of California Pecans
¾ cup flour
4 tablespoons unsweetened cocoa powder
¼ teaspoon salt
frosting
1 cup light or dark corn syrup
¼ cup butter, melted
1 teaspoon vanilla extract
½ cup Diamond of California Pecans, finely chopped (plus additional for topping)
½ cup packed sweetened coconut flakes
¼ cup semi sweet chocolate chips, melted
Instructions
Preheat oven to 350 degrees and lightly grease a baking sheet.
Cream butter and sugar until light and fluffy. Mix in vanilla, chopped pecans, flour, cocoa powder, and salt. Roll dough into 1½ inch balls and place on greased baking sheet.
Bake for 12-15 minutes. Transfer to cooling rack to cool completely.
In a medium bowl stir together corn syrup, melted butter, vanilla, chopped pecans, and coconut flakes.
Spread about 1 tablespoon of frosting on the top of each cookie. Drizzle melted chocolate over each cookie and top with a pecan. Store in airtight container at room temperature.
3.4.3177
(Visited 4 times, 1 visits today)