These FLUFFY DOUBLE CHOCOLATE SUGAR COOKIES are to die for. Baking the perfect Christmas cookie has never been so easy. The more chocolate chunks the better!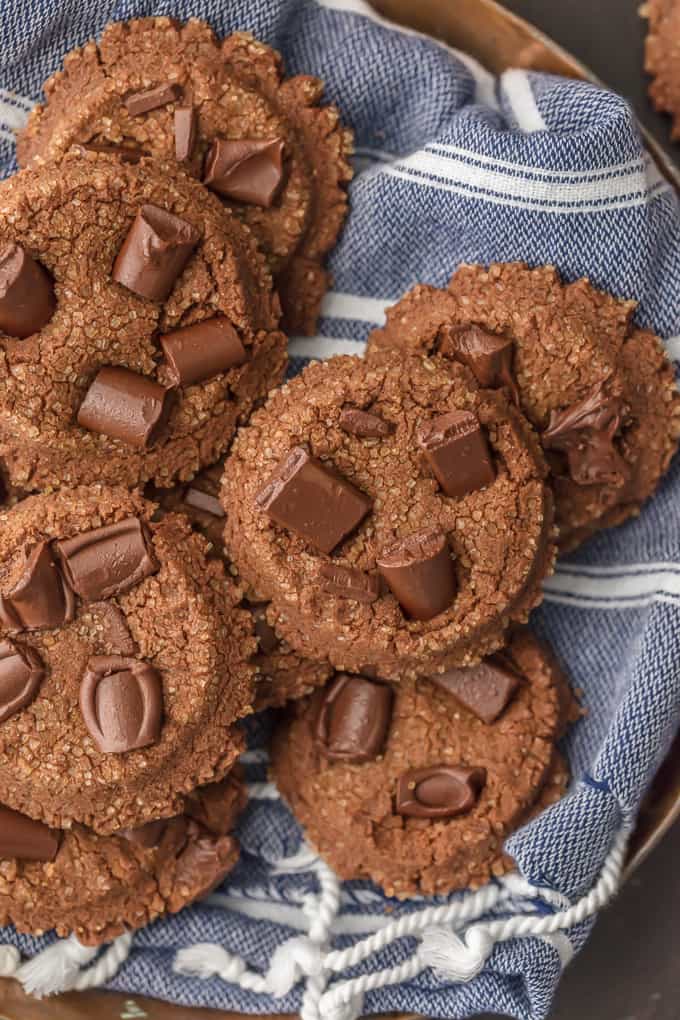 I know it's not yet Thanksgiving, but I already have CHRISTMAS COOKIES on the brain! There's just never enough time to eat all the sweet treats during the holiday season, and for a food blogger and major foodie there is no better time of year. I feel like I've conquered many things in the kitchen, but baking still seems a little bit scary from time to time. I love learning new tricks to make it a breeze and create delicious recipes that people crave time and time again. These incredible DOUBLE CHOCOLATE SUGAR COOKIES are my new obsession and I may or may not be making them every week up until Christmas (and most likely even in January. My New Year's Resolutions don't stand a chance!).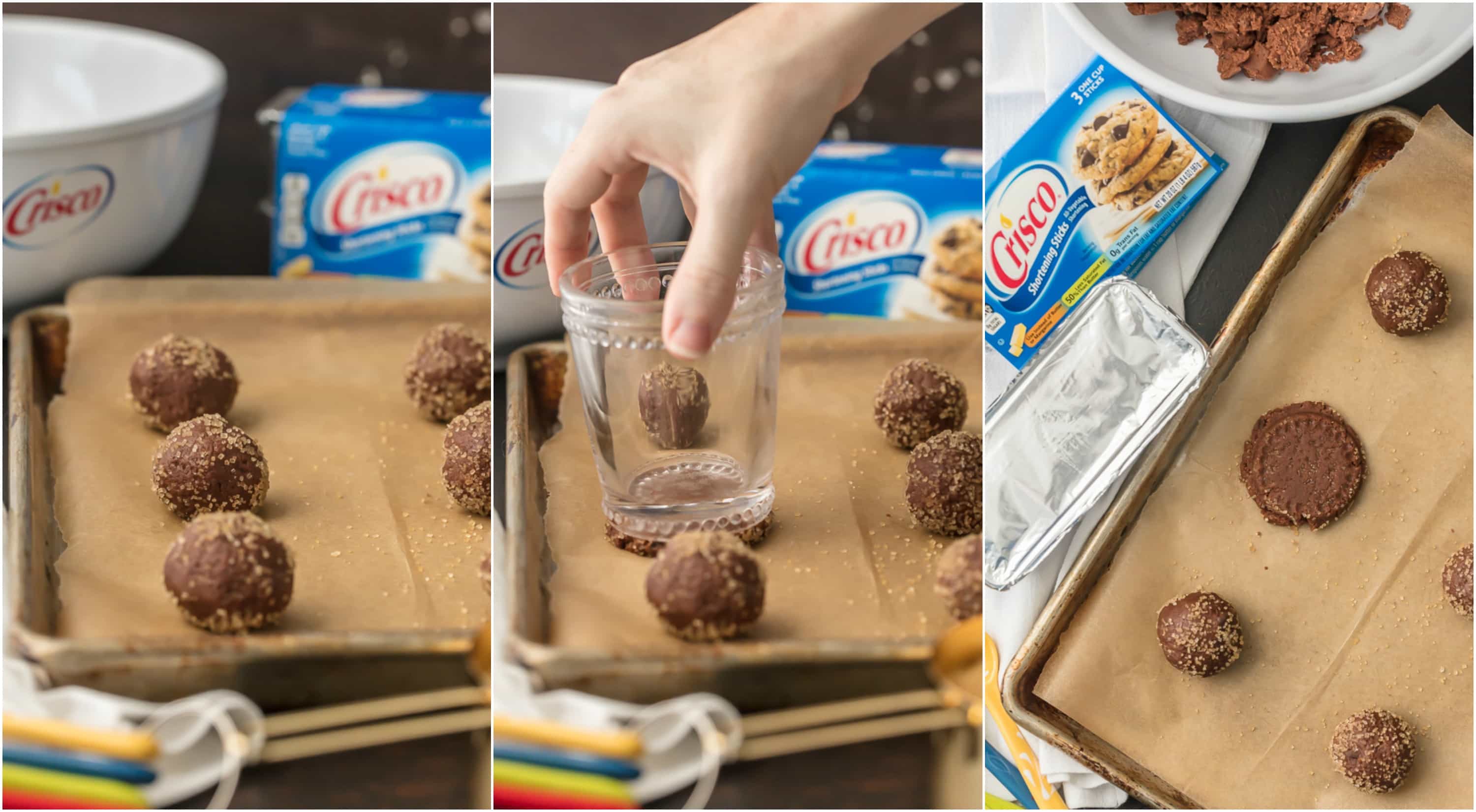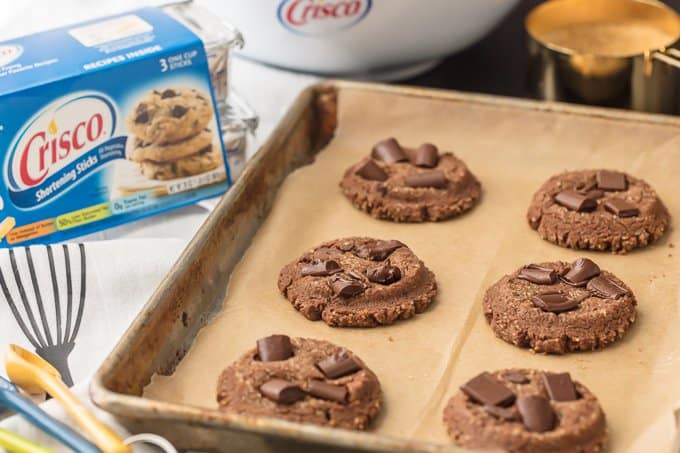 The key to making these amazing Double Chocolate Sugar Cookies oh so light and fluffy is CRISCO® All-Vegetable Shortening! Bakers already know that Crisco helps to create the ultimate baked good. Using Crisco results in thick, light textured cookies with almost zero spread in the oven. You can trust where you place them is where they'll end up, and I love that. Just perfect for someone still learning like me, because you know I've had so many batches in the past all meld into one giant pan cookie :).
You can see the differences in butter versus Crisco below. It's pretty amazing. These Double Chocolate Sugar Cookies have such an incredible texture and flavor, I cannot wait for you to try them at home. I adapted them from Crisco's Classic Cookie Cut Out Recipe, my go-to for all holiday cookies. You cannnnnnot go wrong with that recipe. Click HERE to check it out and save it, pin it, print it, or all of the above! I love to Bake it Better with Crisco, have you tried the comparison??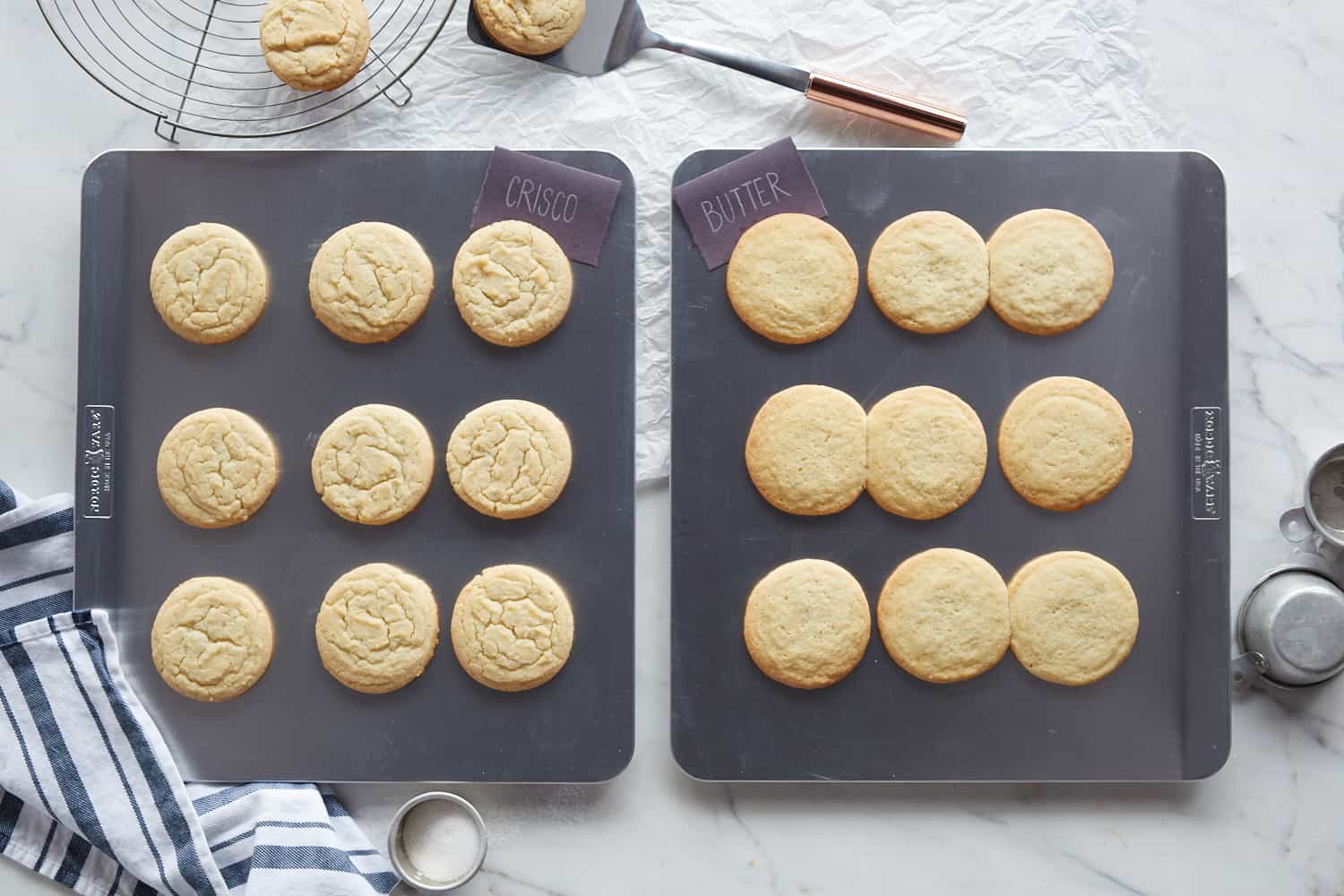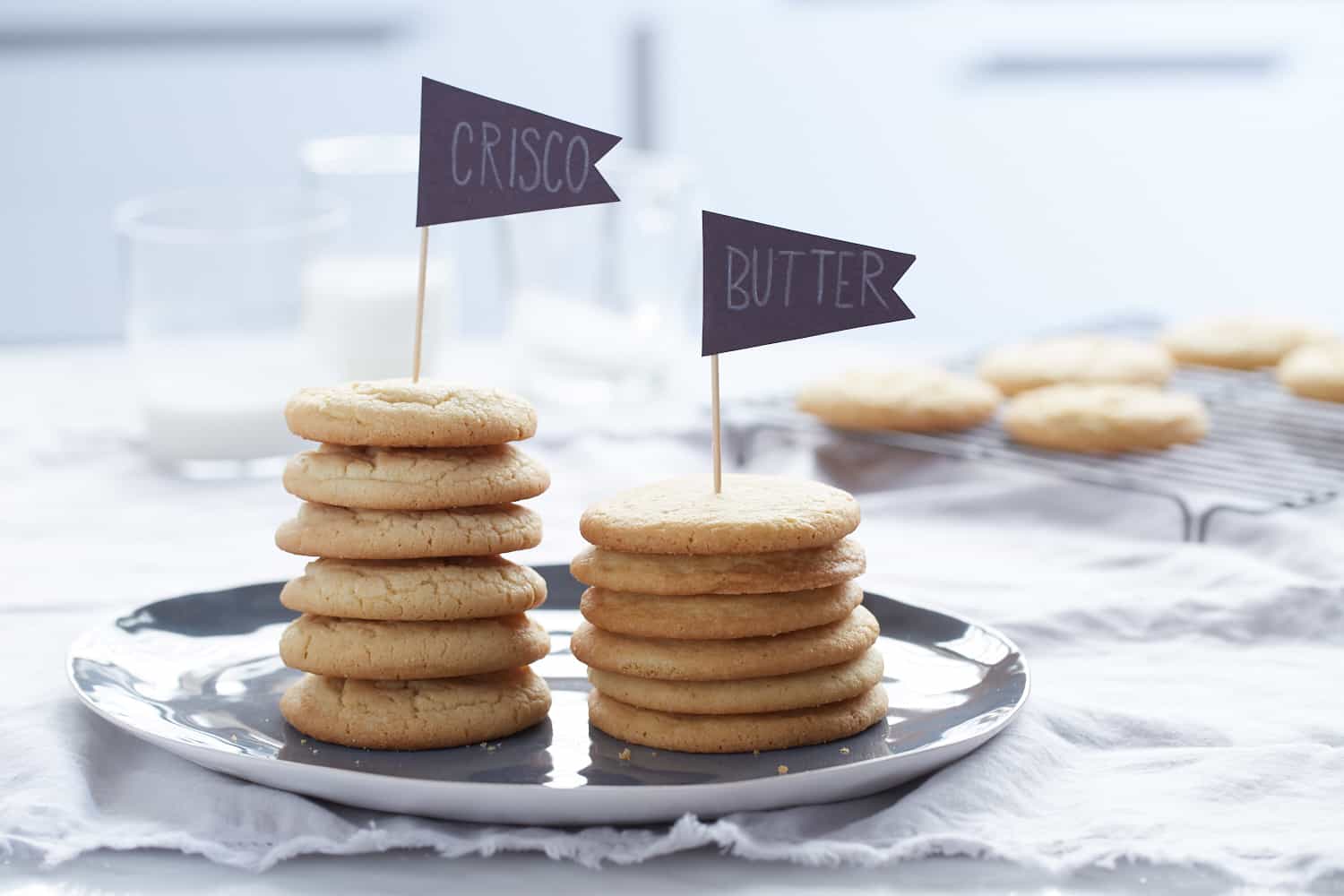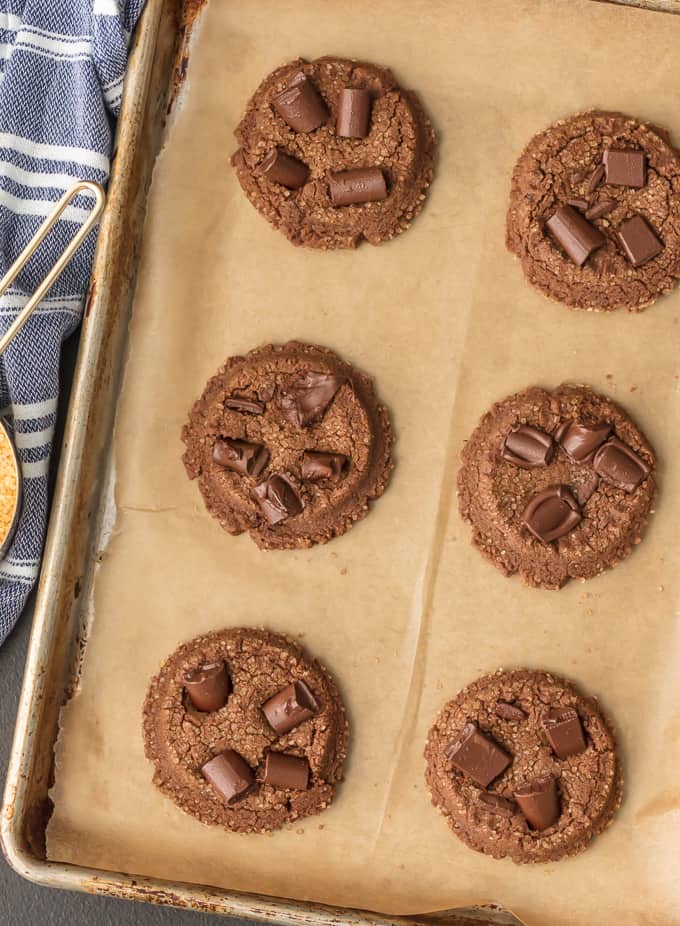 Pro tip in making your cookies extra pretty and perfect for handing out to friends and family??? Add some chocolate chunks to the top right after they come out of the oven. It makes them look finished, polished, and adds that extra punch of chocolate. You know I can never say no to more chocolate. And why should I? These are to die for!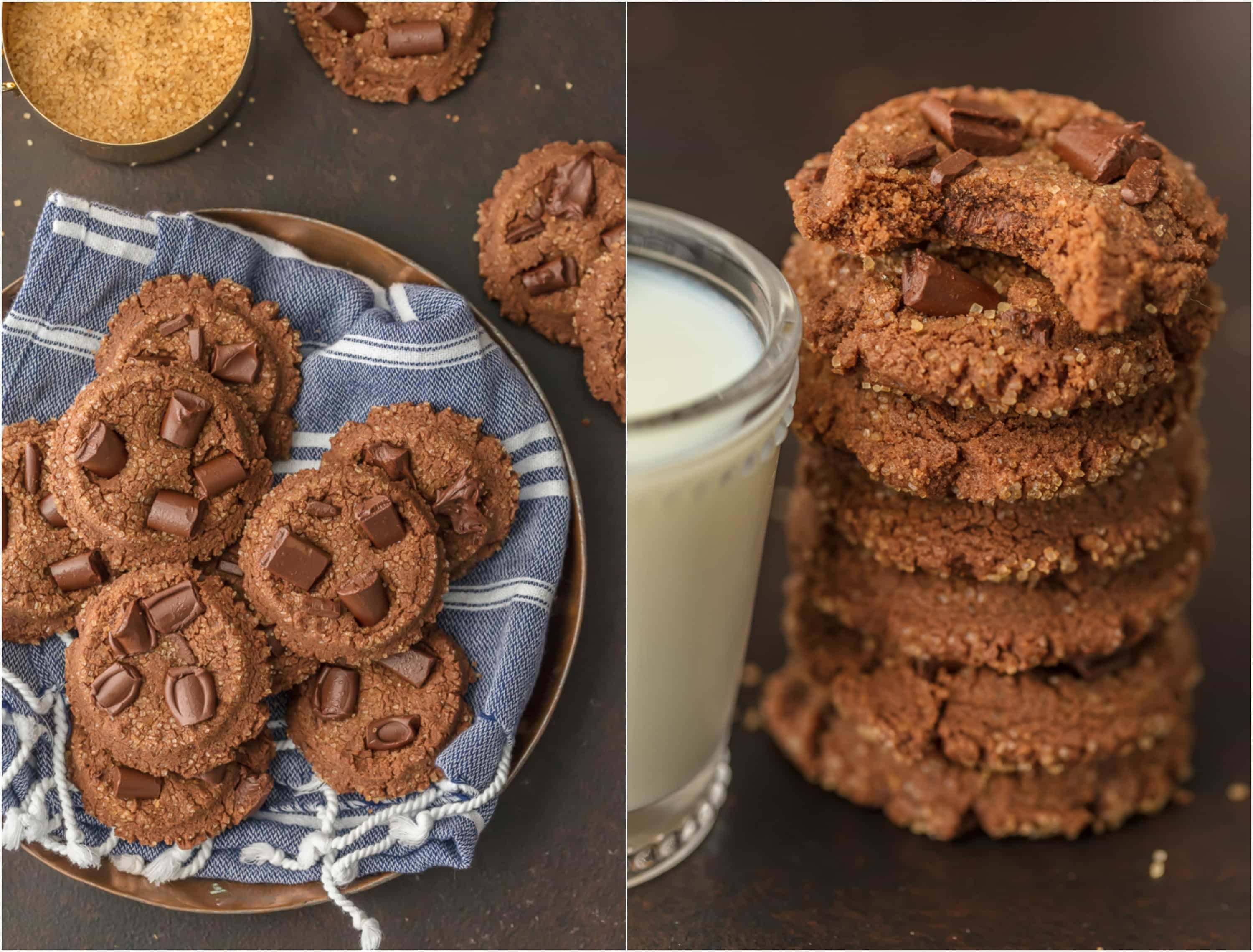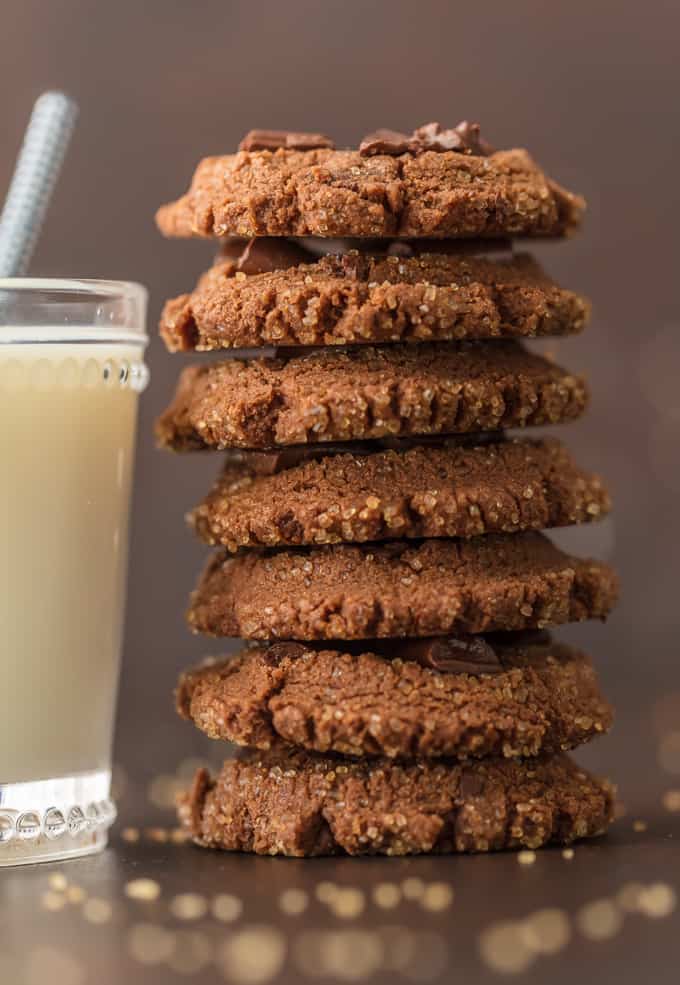 To recap, using Crisco in place of butter in your fave holiday baked goods results in a light and fluffy texture that just can't be beat, and cookies have less spread in the oven which is just an added bonus! You can almost always sub in Crisco 1:1 for butter in your recipes, SO EASY. 50% less saturated fat than butter. Say what?! Yep. Get on it friends!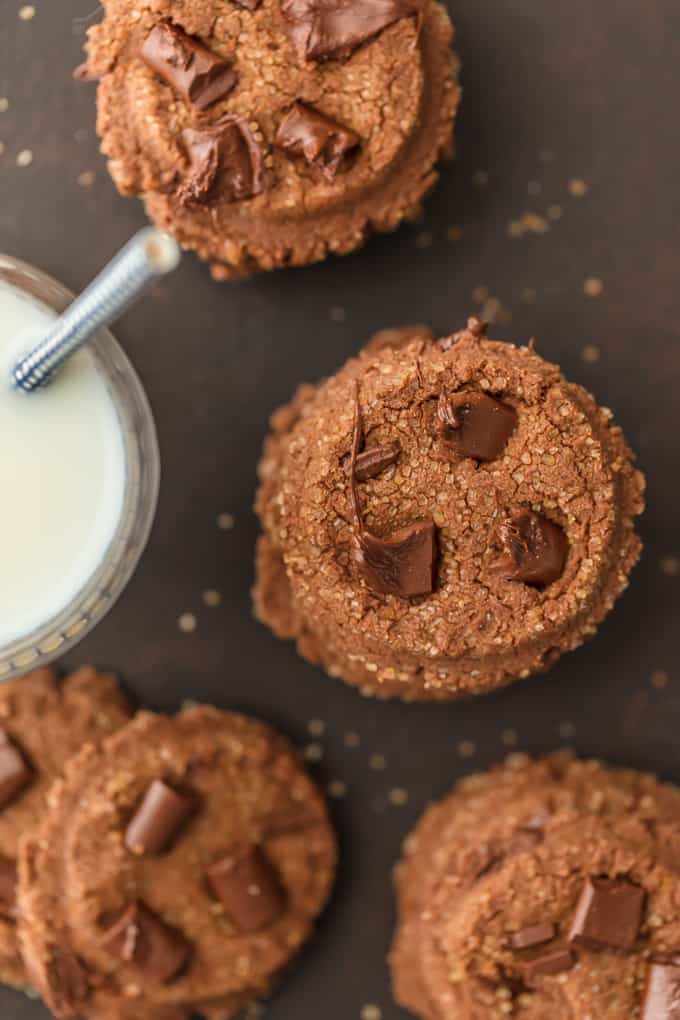 Remember to find the ultimate Sugar Cookie recipe HERE. You won't regret it.
Enjoy!
Fluffy Double Chocolate Sugar Cookies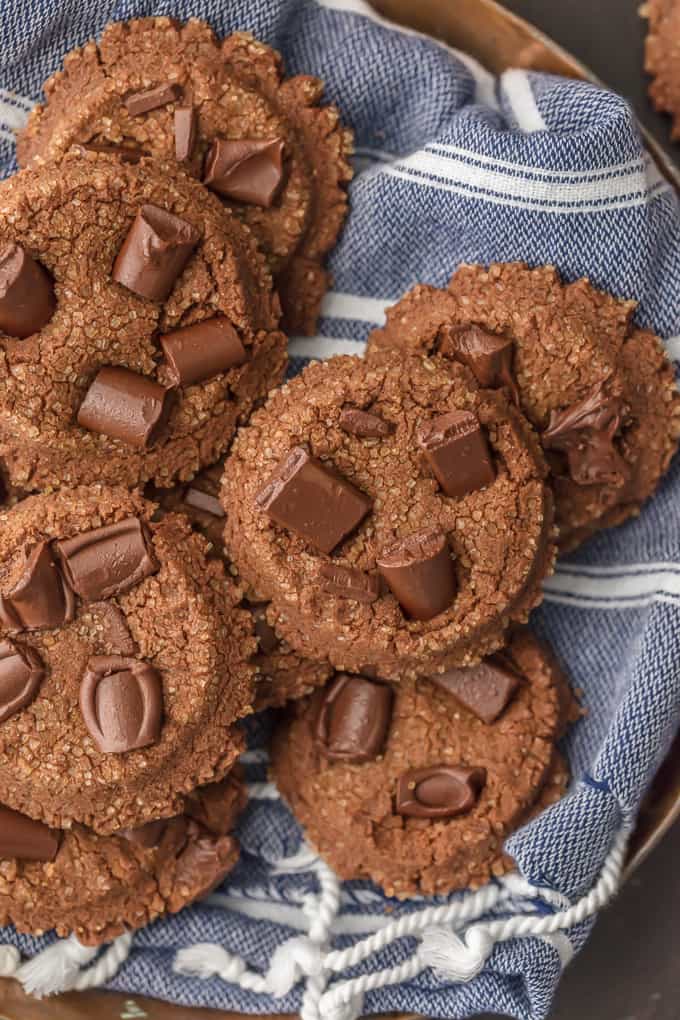 Ingredients
1¾ cups all purpose flour
½ cup natural unsweetened cocoa powder
¾ teaspoon baking soda
½ teaspoon salt
1 cup Crisco shortening, room temperature
1 3/4 cup sugar
1 tsp pure vanilla extract
1 egg
1 cup milk chocolate chunks (plus more for garnish)
1 cup course turbinado sugar
Instructions
Preheat oven to 350F. Line a large baking sheet with parchment paper and set aside.
In a large bowl, stir together the dry ingredients (flour, cocoa, baking soda, and salt). Be sure it is fully combined. Set aside.
Fit your stand mixer with the paddle attachment. Beat the crisco and sugar on medium until light and fluffy, about 2 minutes.
Add in the vanilla and egg and continue to beat on medium/high until fully combined and fluffy.
Switch the mixer to low/medium and slowly add in the flour mixture, 1 cup at a time, allowing it to become smooth before adding more. Once all the flour mixture is added, add in the chocolate chunks and beat on low until they're fully incorporated.
Pour the turbinado sugar into a medium sized bowl.
Roll the dough into 1 inch balls and roll all sides in the turbinado sugar. Place on a baking sheet and repeat with the rest of the dough, with 2 inches between each cookie. Use the bottom of a glass to flatten each cookie to your liking. Don't make them too flat, you want them about 1/2 inch thick.
Bake for 10-12 minutes or until the top puffs up slightly and begins to crack.
Remove from the oven and add more chocolate chunks to the top as shown if desired. Allow to cool on a cooling rack fully before serving.
Enjoy!
7.6.4
2464
https://www.thecookierookie.com/fluffy-double-chocolate-sugar-cookies/
Ad – This is a sponsored conversation written by me on behalf of Crisco®. The opinions and text are all mine.
Did you make this recipe?