Is there anything better than creamy pasta? How about creamy tomato pasta! I'm so excited about this recipe because it is basically everything I want to eat for dinner any night of the week. Big, hearty, rigatoni noodles are coated in a tangy, luscious creamy tomato sauce. Plus, it's a healthy bowl of pasta because there are quite a few yummy sautéed vegetables mixed in here as well.
This post is in partnership with Mutti Tomatoes, Italy's #1 tomato brand, which is perfect timing because we are really craving summer food over here… even though it's only April and summer is still a while away. Thanks to Mutti, we can dream of Italian summer nights with their fresh-tasting 100% Italian tomatoes, which are picked at their peak ripeness and packed with only a pinch of sea salt.
This recipe is a two parter. The first part is my go-to Marinara sauce. Aside from using it to make the creamy pasta sauce in this final recipe, it's a simple, quick pantry-based recipe that you should keep in your back pocket. It's delicious on pasta, pizza, or even spaghetti squash. Everyone needs a basic marinara recipe and this one is mine.
Creamy Pasta Pomodoro
Now to make marinara just a little bit more exciting… we're blending it into a creamy pasta sauce! Oh, and I forgot to mention, we're not using cream or cheese… but no one has to know that. To make the creamy tomato sauce, simply blend the marinara with cashews and tomato paste.
For this recipe I use Mutti Double Concentrated Tomato Paste. This is not any ordinary tomato paste – this tomato paste is so wonderful because it comes in a tube instead of a tiny can! I often like to use just a little bit of tomato paste to dramatically punch up flavors in sauces and soups. It's SO convenient to be able to use a tablespoon and store the rest (it lasts a really long time) without having to make use of an entire can.

Because this is a vegetable blog, I like to serve my pasta with equal parts vegetable. Zucchini, spinach, arugula, fresh thyme, and Mutti Cherry Tomatoes make this creamy pasta pomodoro light and fresh.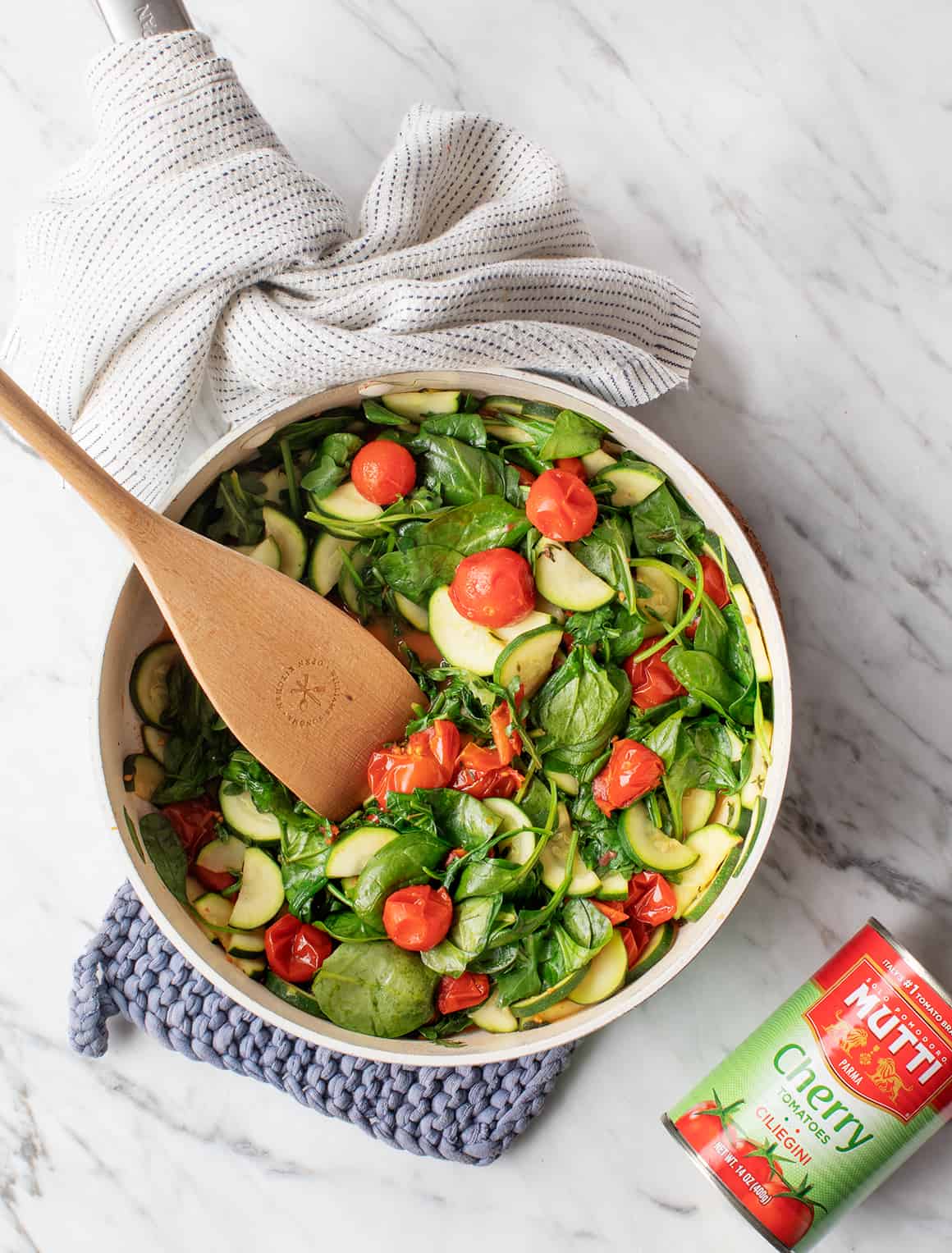 Take a look at that creamy sauce!


I hope you love this recipe, but that's not all I have for you today – we're giving away a fun tomato prize pack to one lucky winner!
The giveaway includes a wide variety of 100% Italian tomatoes and other fun gifts from Mutti.
To enter: Leave a comment below telling me what you love to make with tomatoes!
We'll choose a winner at random on 4/30/19. US addresses only. 
Creamy Pasta Pomodoro
Author: Jeanine Donofrio
Recipe type: Main Dish
1 tablespoon extra-virgin olive oil
3 tablespoons finely minced shallot
1 large garlic clove
¼ teaspoon sea salt
Freshly ground black pepper
1 (14-ounce) can Mutti Finely Chopped Tomatoes
1 teaspoon balsamic vinegar
⅛ teaspoon cane sugar
Pinch of dried oregano
Pinch of red pepper flakes
Marinara recipe, from above
¼ cup raw cashews
½ tablespoon Mutti Tomato Paste
¼ cup water
¼ cup pasta water
¼ to ½ teaspoon sea salt
10 ounces rigatoni
Extra-virgin olive oil, for drizzling
2 medium zucchini, sliced into thin half moons
2 tablespoons fresh thyme leaves
2 (14-ounce) cans Mutti Cherry Tomatoes, drained
6 cups spinach or mix of spinach & arugula
¼ cup chopped parsley or sliced basil
Sea salt and freshly ground black pepper
Make the marinara sauce: Heat the olive oil in a small pot over low heat. Add the shallot, garlic, salt, and a few grinds of black pepper and cook for 3 minutes, stirring often. Add the tomatoes and their juices, balsamic vinegar, cane sugar, oregano, and red pepper flakes. Cover and simmer over low heat for 20 minutes, stirring occasionally.
Make the creamy sauce: Add the marinara to a blender with the cashews, tomato paste, salt, and ¼ cup of water. Blend until smooth. Set aside until ready to use. Before serving, stir in ¼ cup hot pasta cooking water to loosen it up so that it'll nicely coat the pasta.
Cook the pasta in a large pot of salted boiling water according to package directions or until al dente.
While the pasta cooks, heat generous drizzles of olive oil in a nonstick skillet over medium heat. Add the zucchini, thyme, and generous pinches of salt and pepper. Sautee, stirring occasionally, until lightly browned, about 3 minutes. Add the tomatoes, reduce the heat to low, and cook for 2 to 3 more minutes or until heated through. Add the spinach and gently toss until wilted. Season to taste with more salt and pepper.
Scoop the pasta into individual bowls, add scoops of the creamy sauce, and toss to coat. Distribute the vegetables among the bowls and top with parsley and or basil. Season to taste and serve.
3.4.3177
This post is in partnership with Mutti. 
(Visited 35 times, 1 visits today)