These Cheesy Garlic Butter Sandwich Skewers are a twist on an old classic. Cheesy Ham, Turkey, and cheese sandwiches drizzled with garlic butter and cooked to perfection in foil packets; such a fun and delicious lunch or dinner!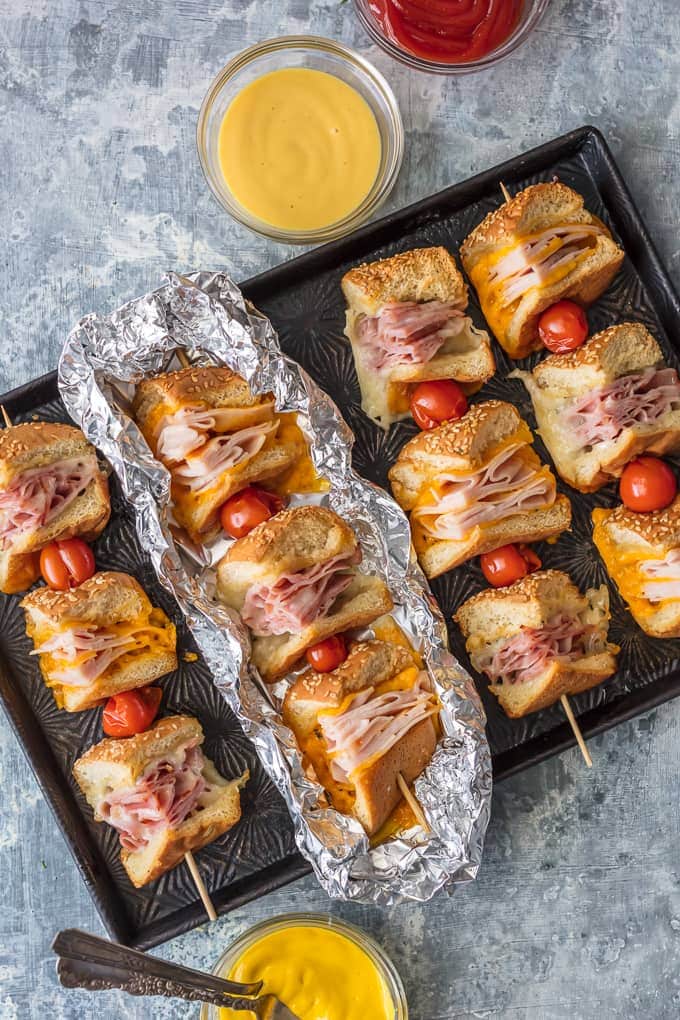 Aren't these just the cutest sandwich skewers! These delicious turkey and cheddar and ham and swiss sandwiches are doused in garlic butter and baked or grilled inside individual foil packets, creating melty, soft, AMAZING lunch on a stick that is sure to make even the pickiest eaters quite happy. These Garlic Butter Sandwich Skewers are here just in time for back to school and just begging to be devoured. Are you excited?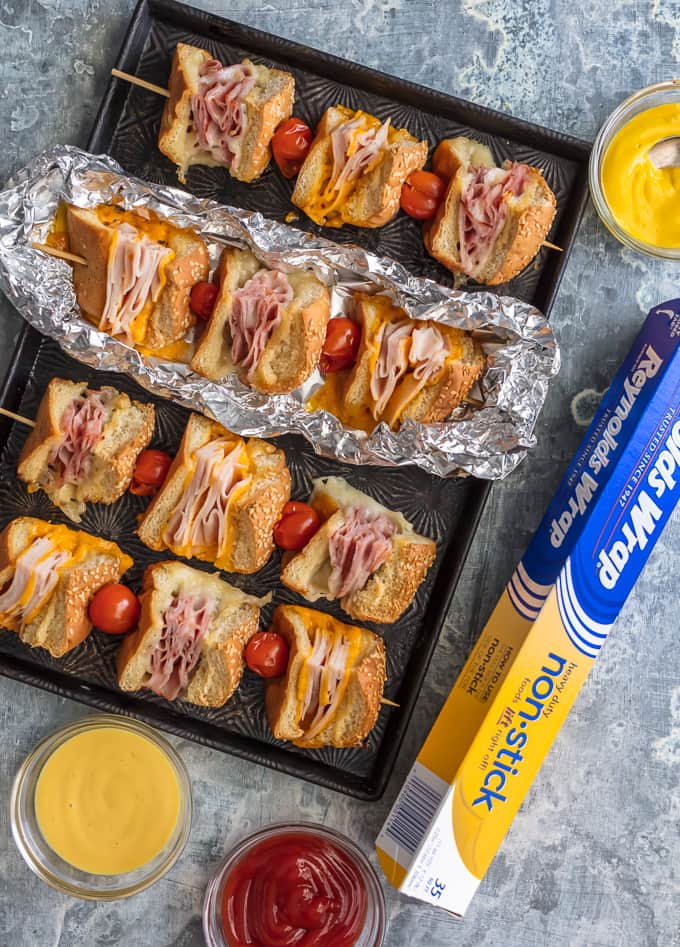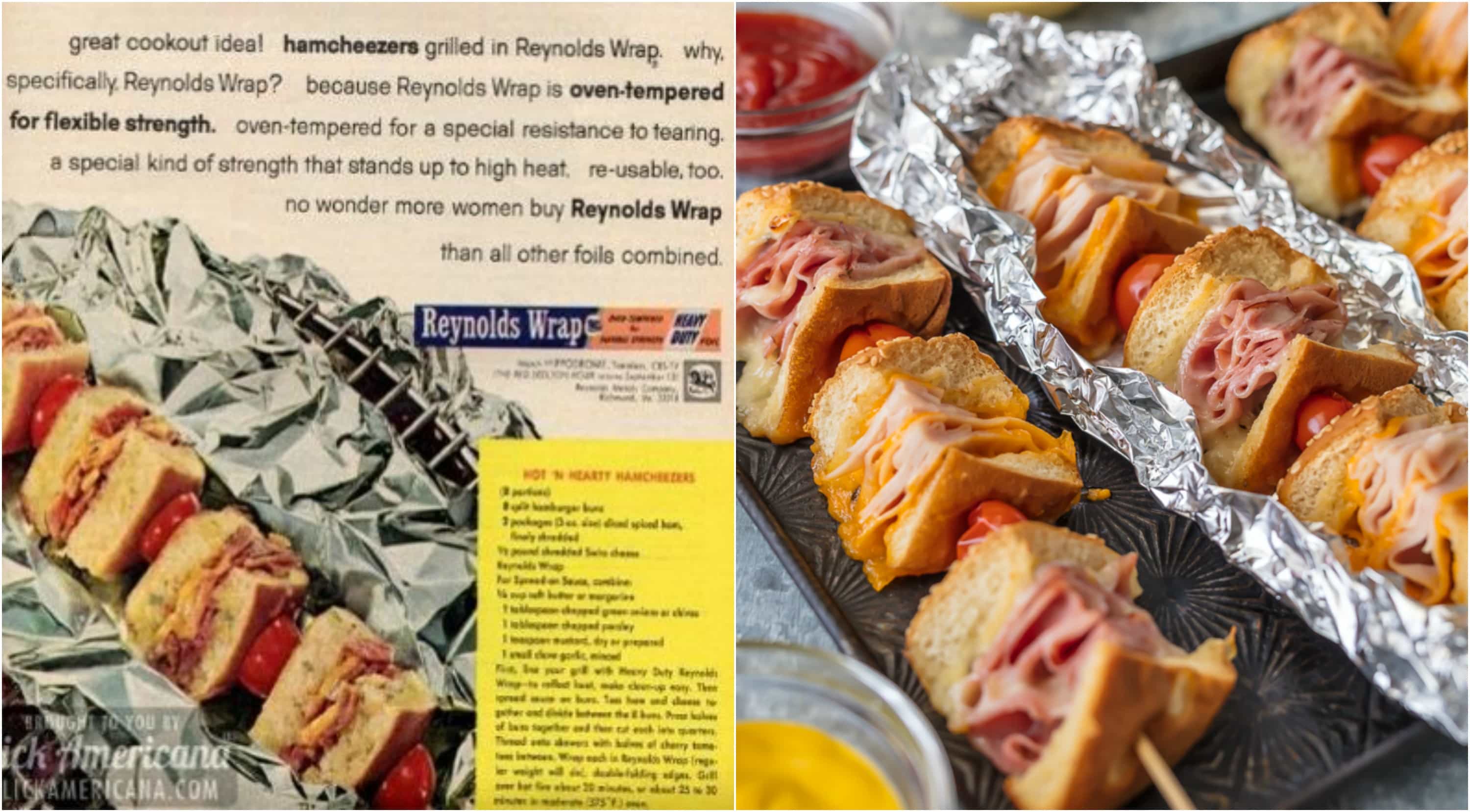 This recipe is especially fun because it's a recreation of a favorite from the 1960s. Called "Hamcheezers" back in the day, I can't take credit for the idea of putting sandwiches on a stick. The original recipe called for shredded spiral ham and cheese, but I thought it would be great (and easier/more accessible) to make them with assorted lunch meat and sliced cheese. It also called for a mustard sauce on the buns instead of garlic butter. Since I like to slather garlic butter on pretty much anything and everything, I had to give it a try on these as well. They turned out SO GREAT, I can't wait to make them again.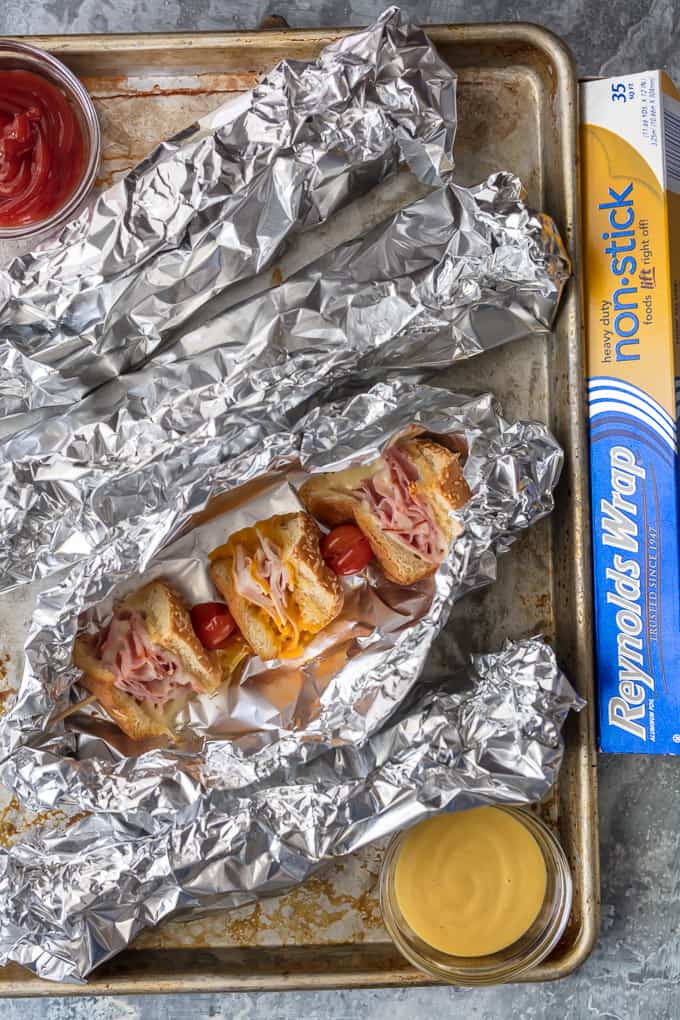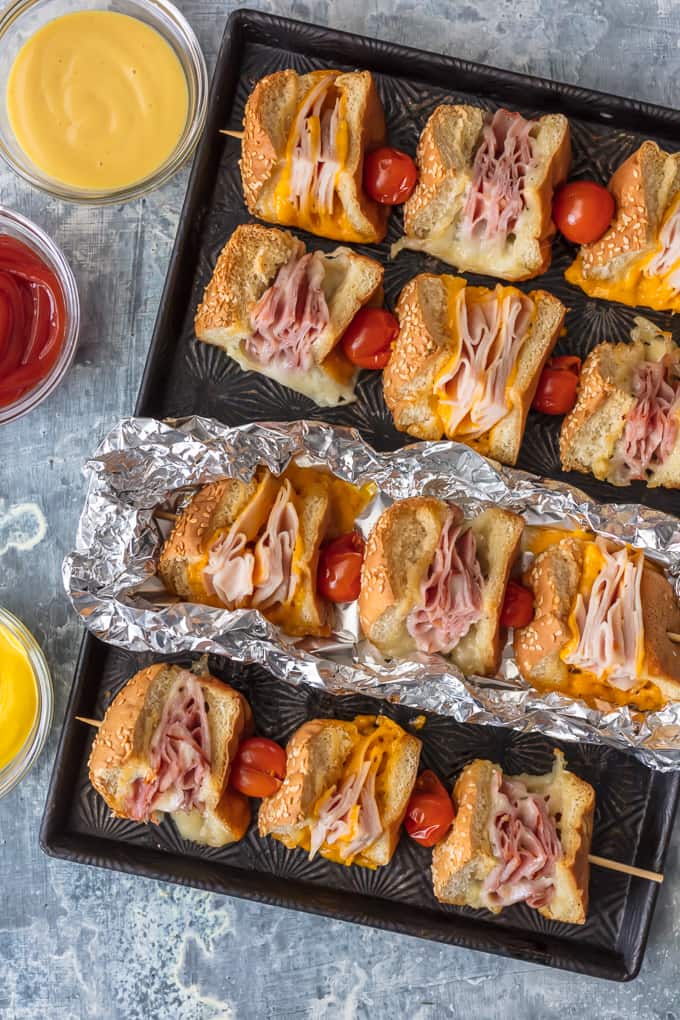 These Cheesy Garlic Butter Sandwich Skewers wouldn't be possible without Reynolds Wrap. They were behind the original Hamcheezers of the 1960s and also behind this new version. Reynolds Wrap Non Stick Foil is absolutely perfect for either grilling or baking these bad boys. From grilling to freezing to everything in between (foil packets, covering dishes, storing leftovers, lining baking pans, the list goes on and on!) They've been creating kitchen miracles since 1947…I'm so honored to work with them!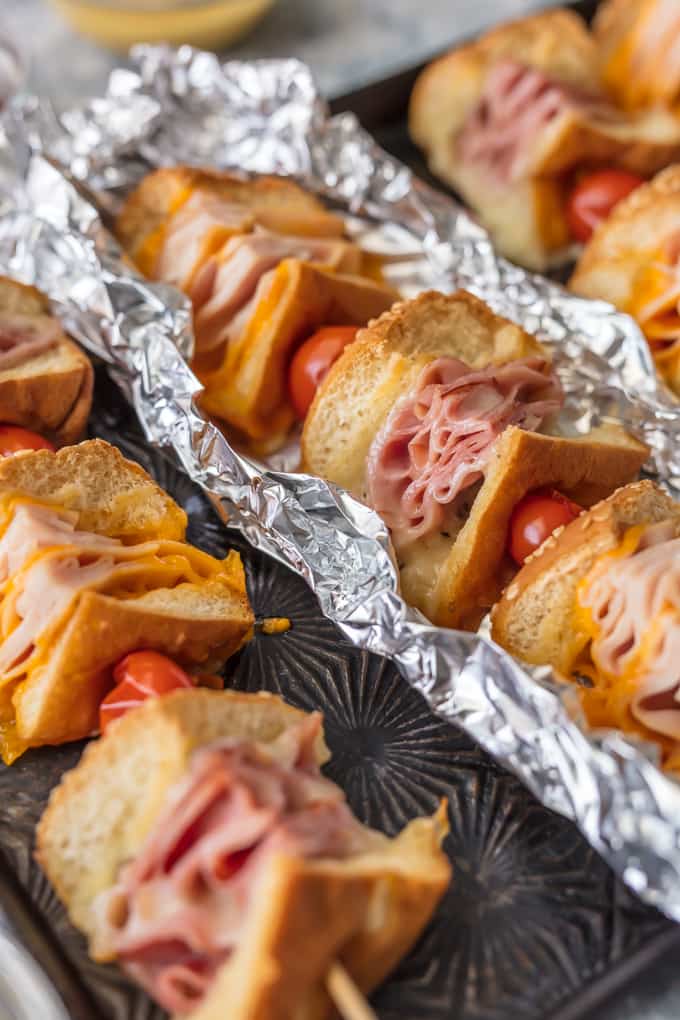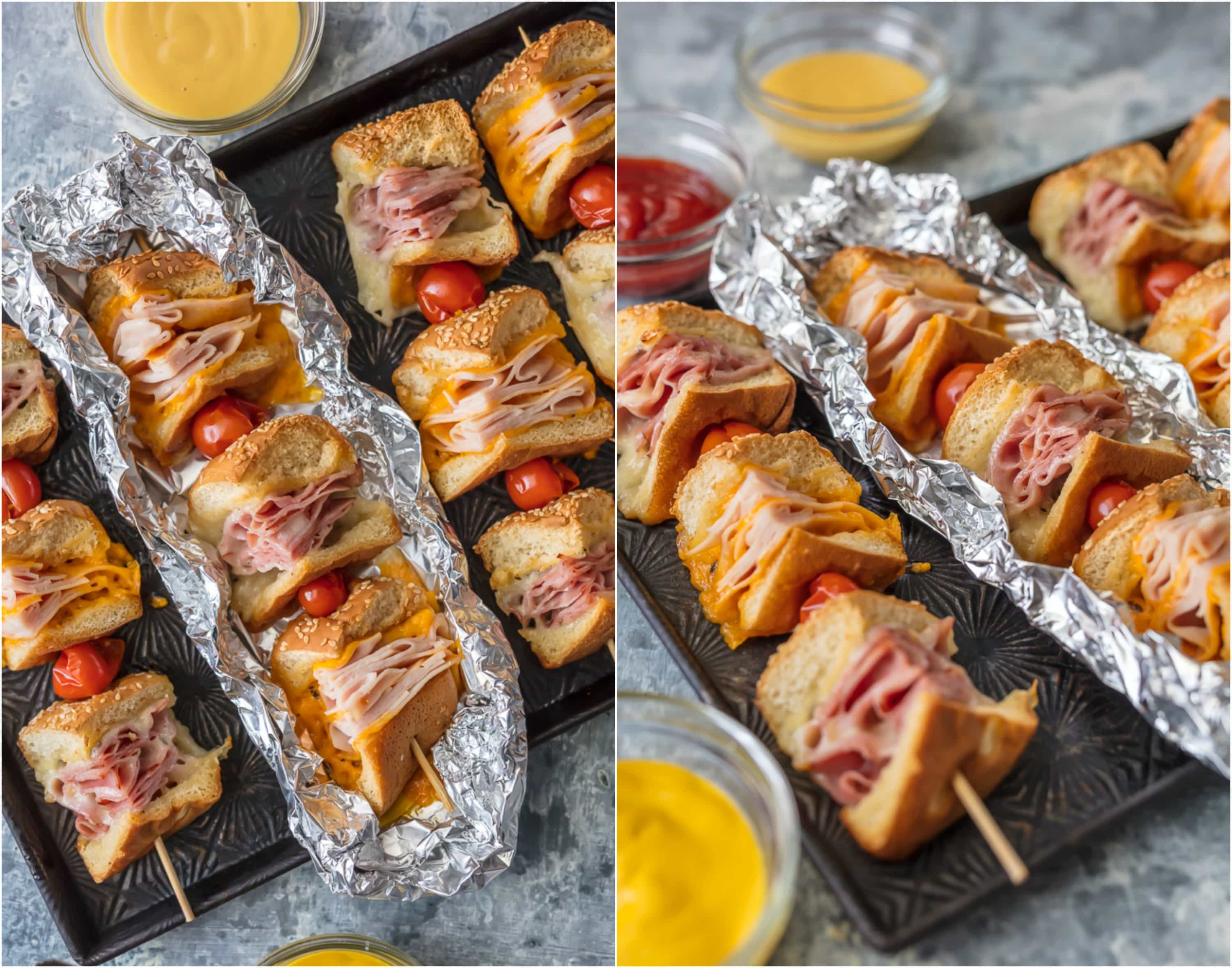 You could make these Garlic Butter Sandwich Skewers so many ways. Next time I'm going to make a french dip version with roast beef and provolone! I'm hooked.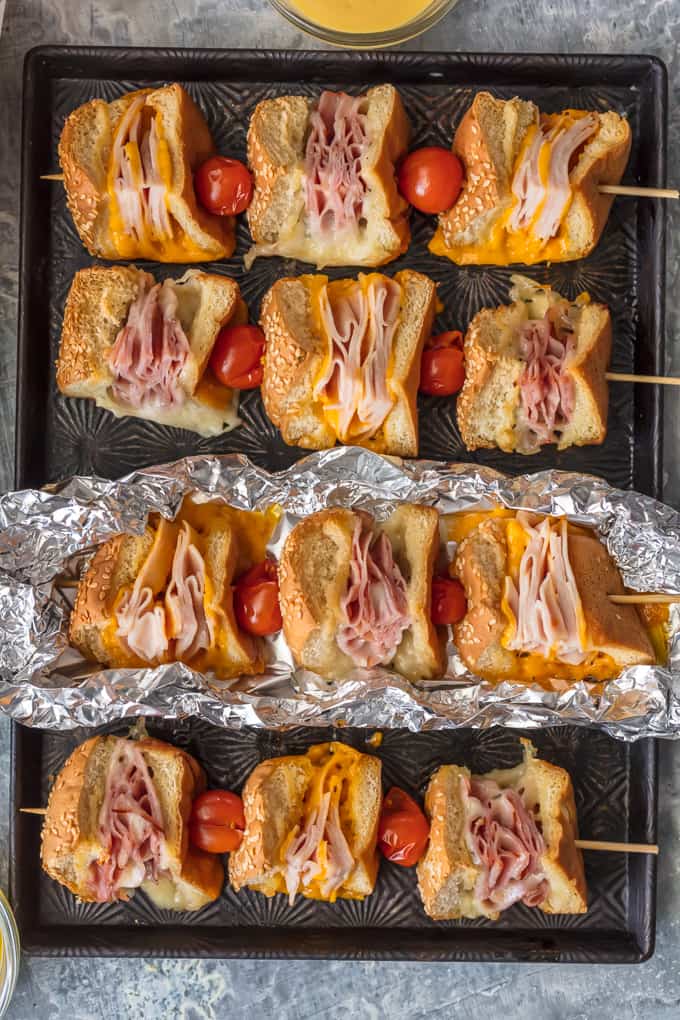 Ingredients
1/4 cup butter, melted
1 teaspoon garlic butter
1/4 teaspoon fresh basil, minced
4 large sesame seed buns
12 slices honey ham
6 slices baby swiss
12 slices mesquite turkey
8 cherry tomatoes
4 skewers
Reynolds Wrap Non Stick Foil
Instructions
Preheat oven to 375F
Stir together melted butter, garlic butter, and basil
Brush the inside of both sides of each bun liberally with the garlic butter.
Create the sandwiches by layering 1 slice of cheese, plus 3 slices meat, plus 1 slice cheese, plus 3 more slices meat, and 1 more slice of cheese (3 slices and cheese and 6 slices meat per sandwich). I did ham and swiss and turkey and cheddar, but you can mix it up!)
Cut each sandwich into fourths.
Make your skewers by alternating types of sandwiches with a cherry tomato in between.
Wrap each skewer in foil and place on a baking sheet.
Bake for 25 minutes.
Enjoy!
7.6.4
2431
https://www.thecookierookie.com/cheesy-garlic-butter-sandwich-skewers/
I'm THRILLED to be an 2017 Reynolds Ambassador. Thank you so much for supporting the brands that help support The Cookie Rookie!

JOIN OUR MAILING LIST
TO GET COOKING!
Subscibe to recieve all the latest, greatest, and EASIEST recipes sent straight to your email inbox. If we post something yummy, you'll be the first to know.