These CHEESEBURGER STUFFED JALAPENO POPPERS are a fun and delicious appetizer! We love these spicy bites for tailgating, parties, or a tasty night spent at home.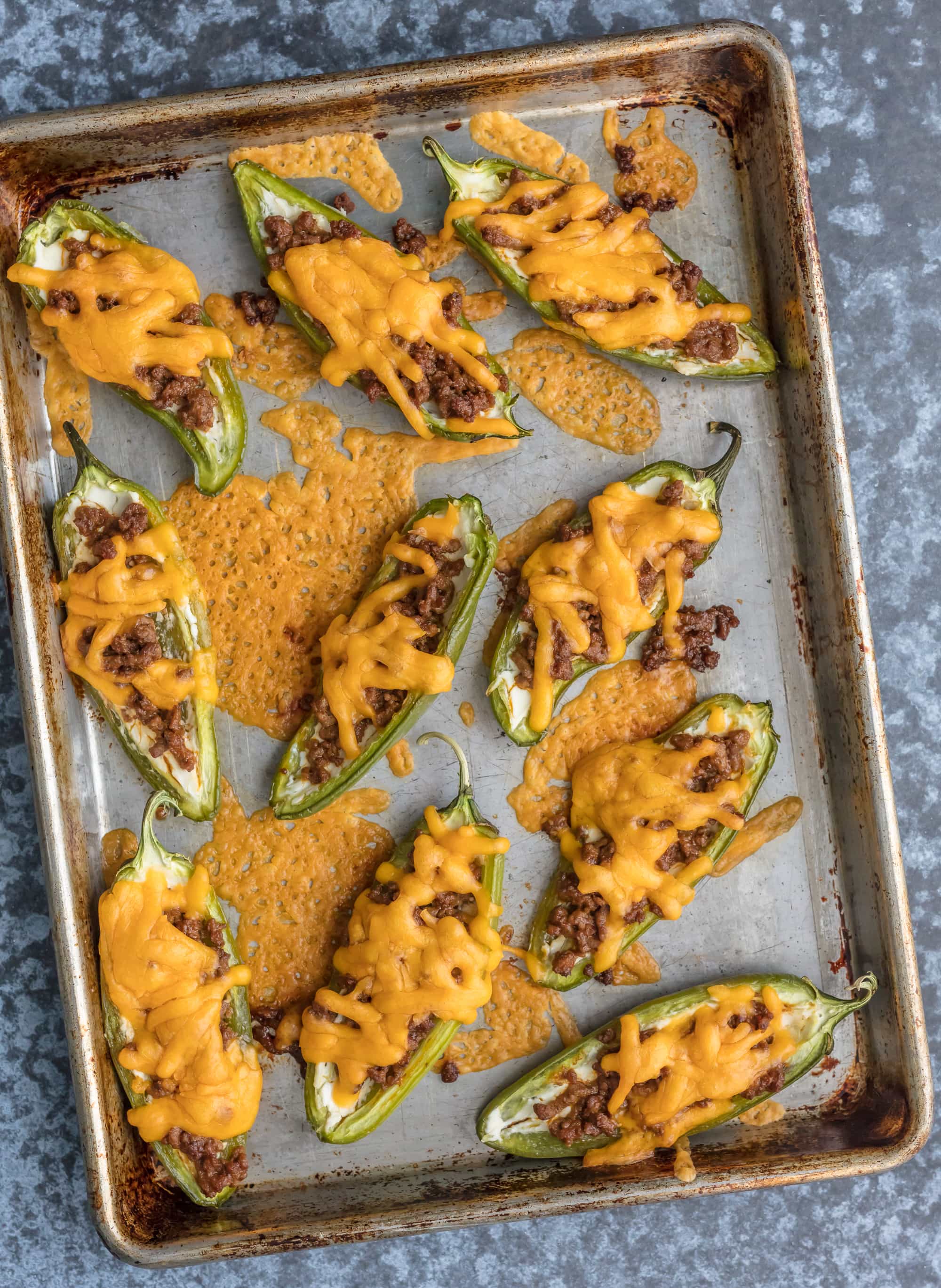 It's officially football season and if you guys have been following along; we LOVE football in this house. Pat suffered a major blow last year when his Rams moved back to California, but we still have my Chief and our Mizzou! Every weekend is spent with wayyyy too much football (and if I have to talk to Pat any more about fantasy football leagues I might go insane) and even though I'm a big fan, I'm an even bigger fan of the food. BRING ME ALL THE TAILGATING APPETIZERS! There are never enough finger foods and dips in the world. These Cheeseburger Stuffed Jalapeno Poppers are way too addicting and are the ultimate snack while watching some pigskin.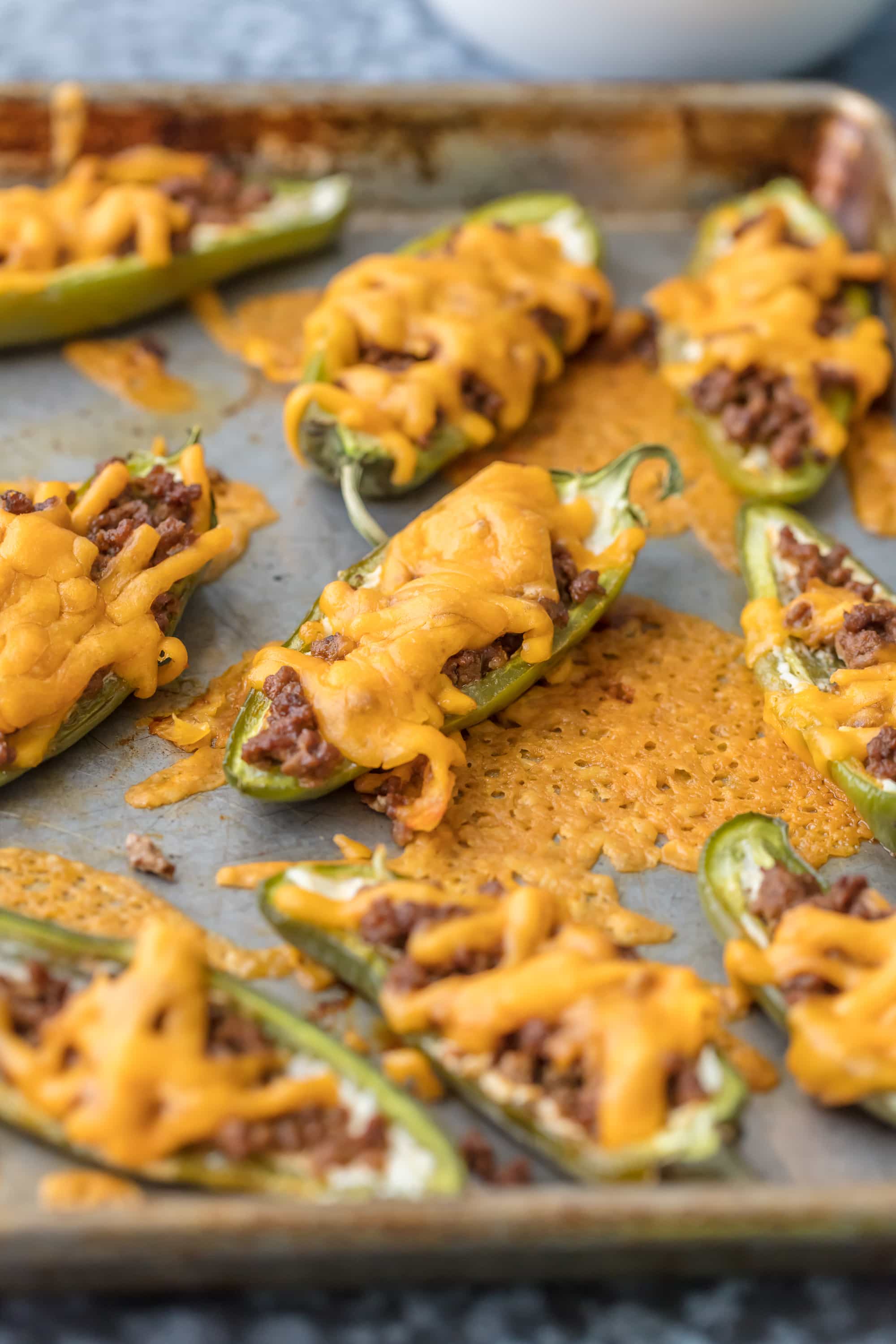 Don't you just want to eat one…or 20? No shame in that game. They're bite sized and made from a vegetable…so that means they're super healthy…right?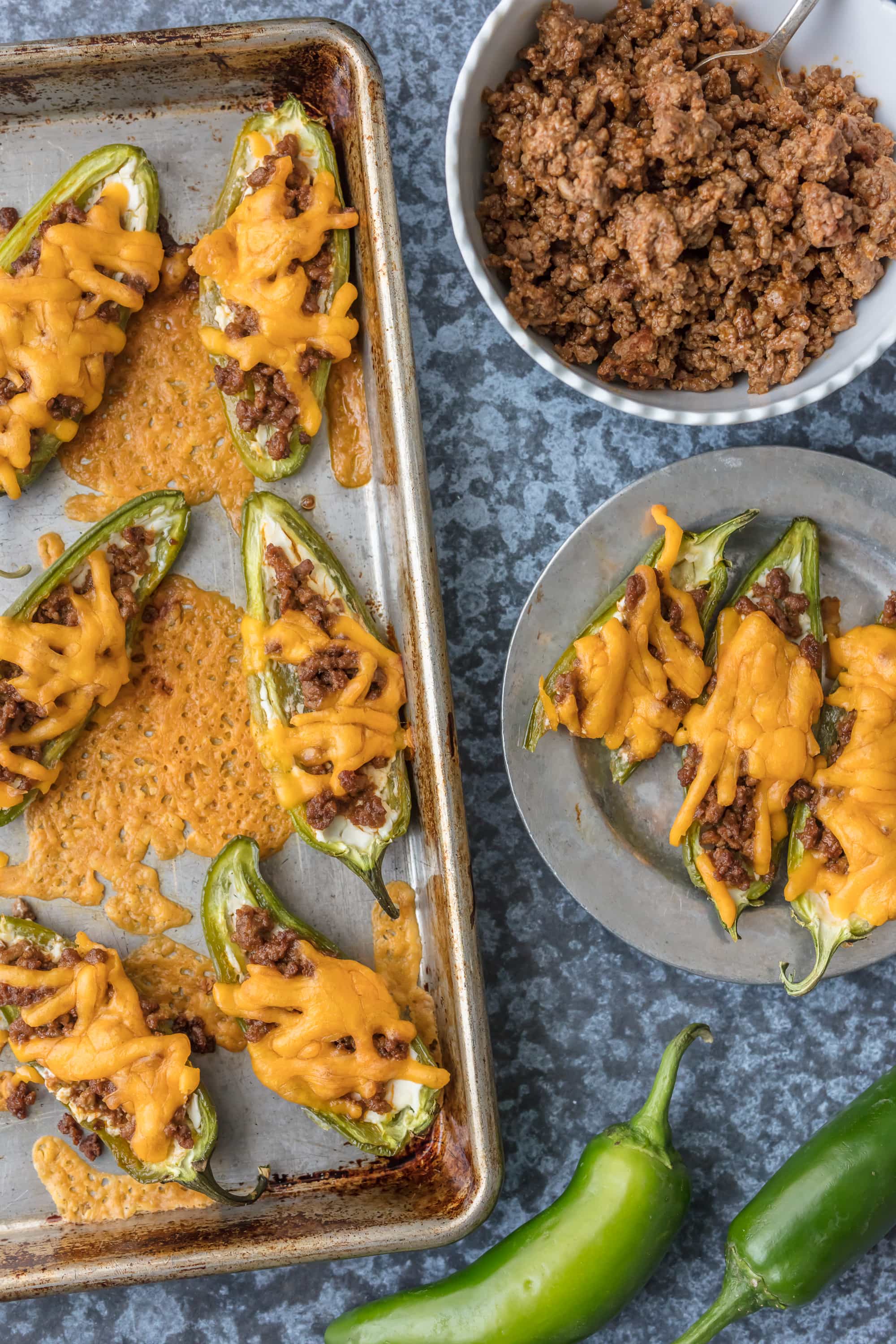 I knew you guys would get me. I'm already compiling my list of snacks for the super bowl and these Cheeseburger Stuffed Jalapeno Poppers are currently at the top. They're right up there with Baked Tacos, Chicken Cordon Bleu Meatballs, and Foil Packet Nachos. We will be SET.
Enjoy!
Ingredients
16 jalapeno peppers, cut in half length wise, seeds and veins discarded***
1 lb. extra lean ground beef
1 tablespoon olive oil
1 (1 ounce) packet taco seasoning
½ cup cream cheese
½ cup shredded sharp cheddar cheese
***the seeds and veins are the spiciest part of the jalapeno. Be sure to remove as much as possible when hollowing out each half pepper.
Instructions
Preheat oven to 350F. Line a baking sheet with foil or spray with nonstick spray. Set aside.
Cut each jalapeno in half length wise and use a knife and spoon to hollow out the veins and seeds from each pepper. Add the jalapenos to the baking sheet.
Heat the olive oil over medium high heat in a large skillet. Add the beef and crumble as it cooks. About half way through cooking, stir in the taco seasoning. When no longer pink, drain if need be and set aside.
Stuff each half jalapeno with 1 teaspoon cream cheese, followed by a heaping of beef, and then sprinkled with cheddar. Repeat with all of the jalapenos.
Bake for 25-35 minutes or until jalapenos are cooked to your liking and cheese is fully melted.
Enjoy!
7.6.4
2434
https://www.thecookierookie.com/cheeseburger-stuffed-jalapeno-poppers/

JOIN OUR MAILING LIST
TO GET COOKING!
Subscibe to recieve all the latest, greatest, and EASIEST recipes sent straight to your email inbox. If we post something yummy, you'll be the first to know.