This CARAMEL CHEESECAKE STUFFED APPLE BREAD is a must make for Fall and the holidays. This moist apple bread is more like a chunky apple cake, stuffed with real apples, caramel pieces, and caramel cheesecake. OBSESSED.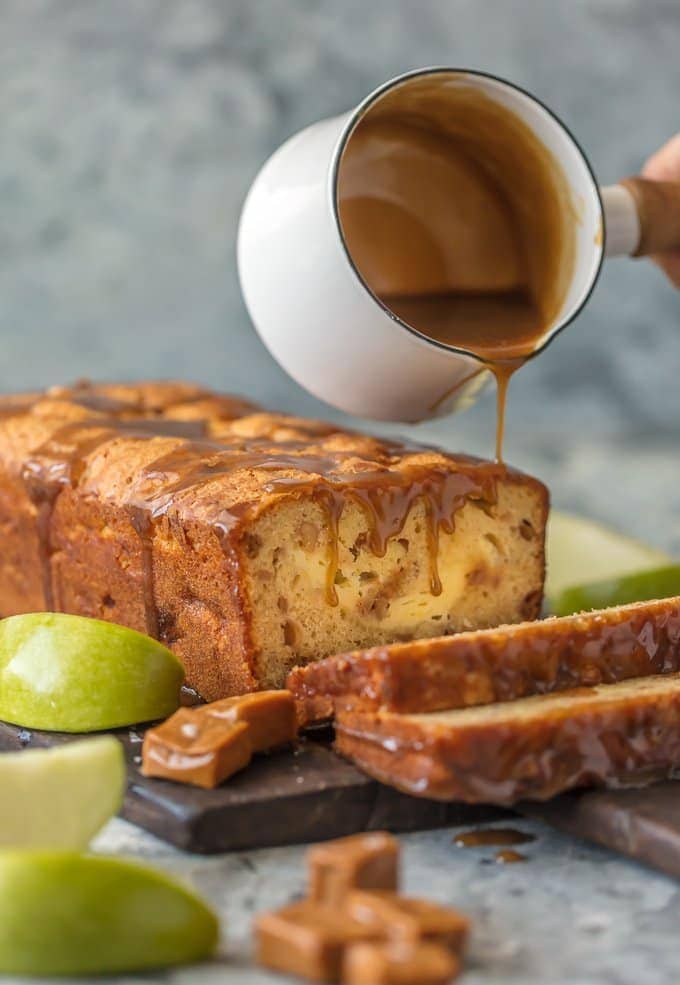 This recipe!!!!! I'm genuinely so excited about this Caramel Cheesecake Stuffed Apple Bread and it's here just in time for Fall. We are just a couple days from the end of Summer and I'm already fully ready for boots, sweaters, jackets, cool weather, and ALL THINGS APPLE. I'm not a big lover of hot weather, so Fall is my jam. There's just something so refreshing about the weather changing, the leaves crunching, and holiday magic entering the air. This chunky apple bread is seriously AMAZING and it's hard to not eat the entire loaf in one sitting. Eat it for breakfast, throughout the day as a snack, or heat it and top with vanilla ice cream for the ultimate dessert. You cannot go wrong!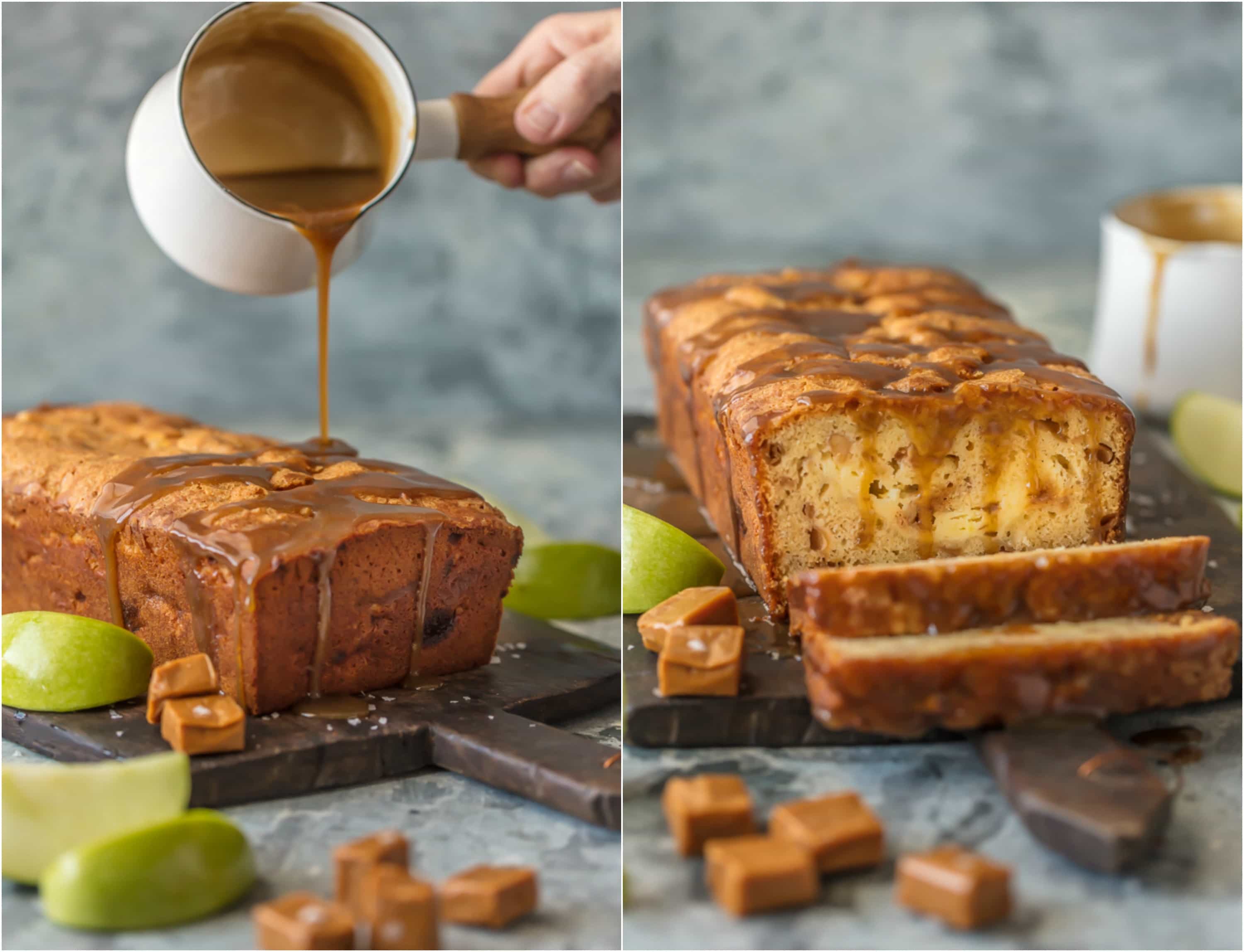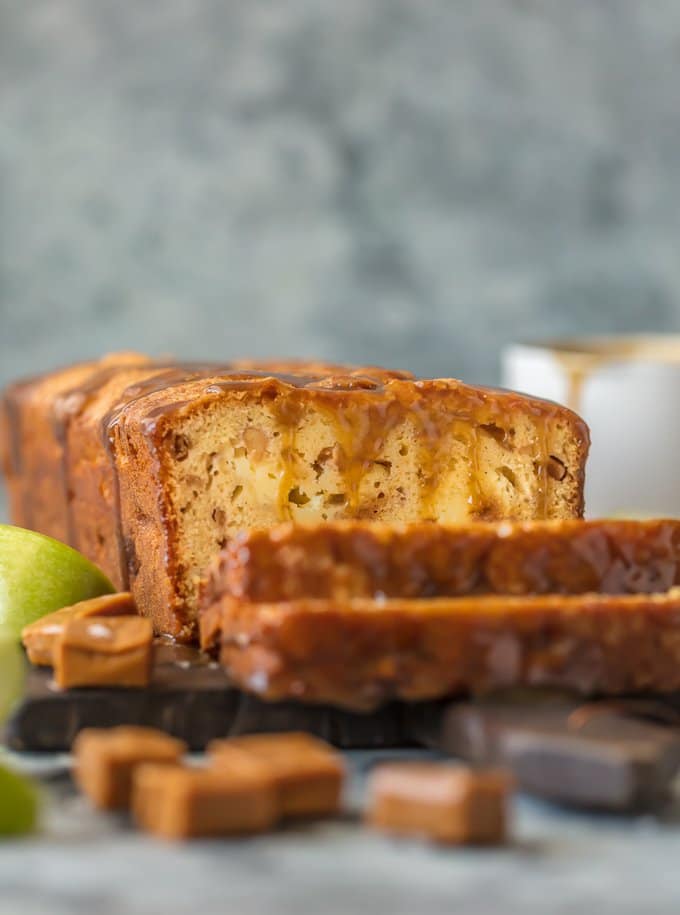 This bread has baked in pieces of caramel, real diced apples, and a layer of caramel cheesecake. If this doesn't get you excited for Fall baking I'm not exactly sure what will. It's such a comfort food wrapped in a sweet treat. Can you tell that I'm excited to scarf it down? I didn't save any for anyone else, so you're all just going to have to jump in the kitchen and make it for yourselves!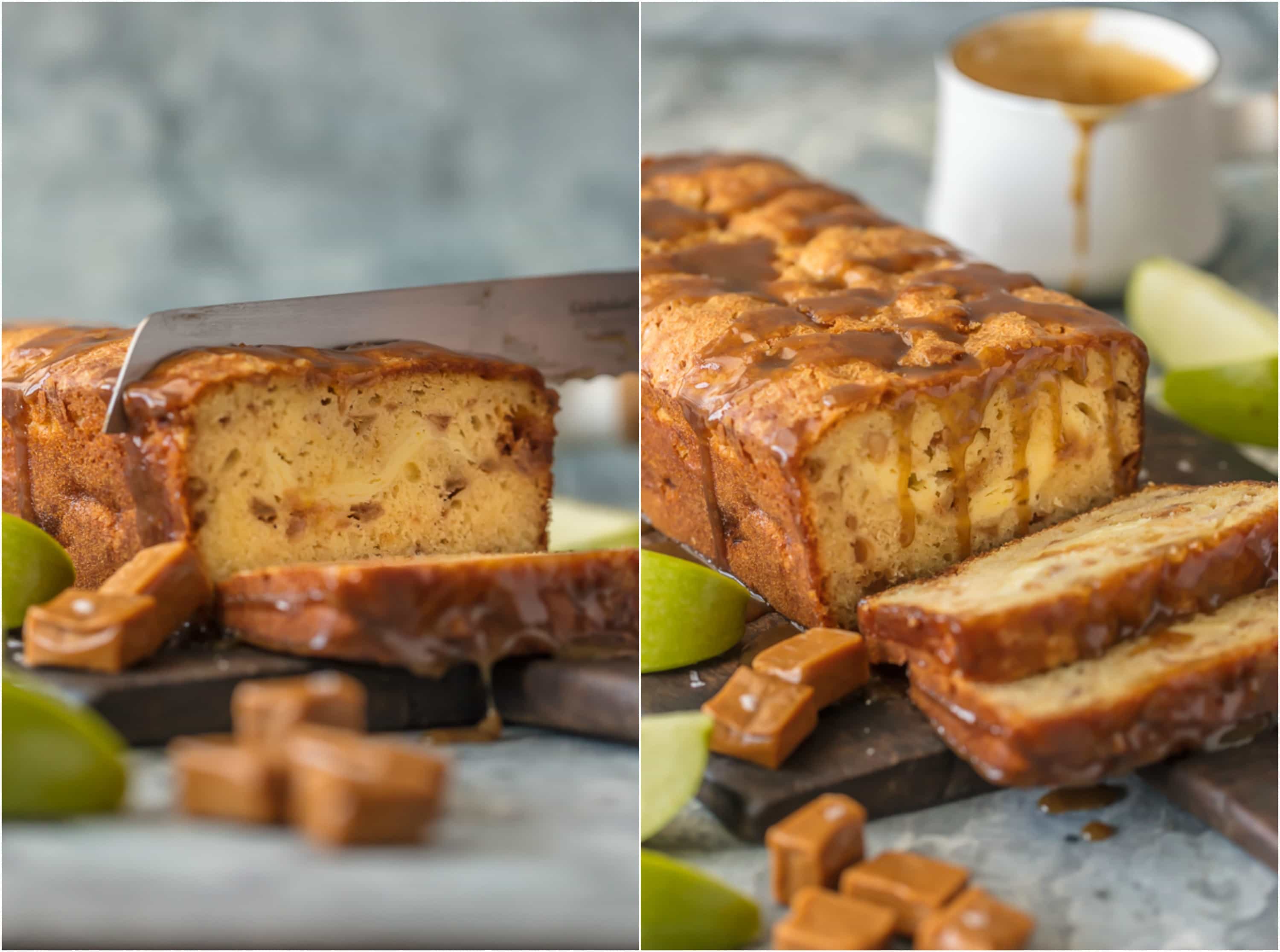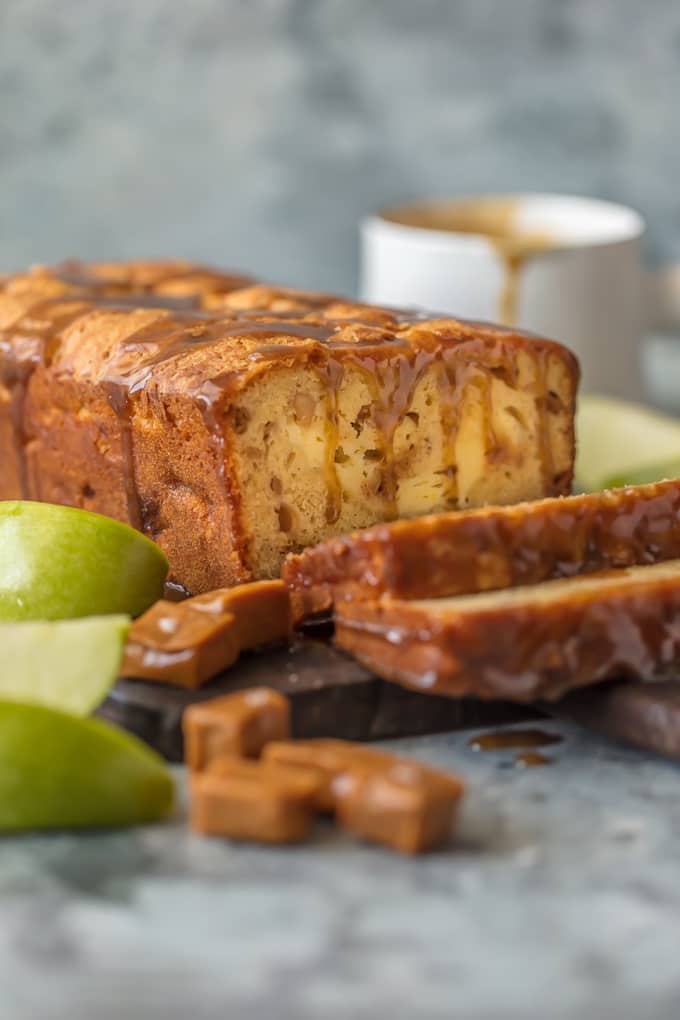 Fall means that I officially have a baby that's 6 months old (whoa), am prepping for another Thanksgiving and Christmas season on the blog, and finally don't have to have people give me trouble about not wearing shorts. I will not be wearing shorts you guys, not even next Summer! Not interested. Like I said, Fall is my jam.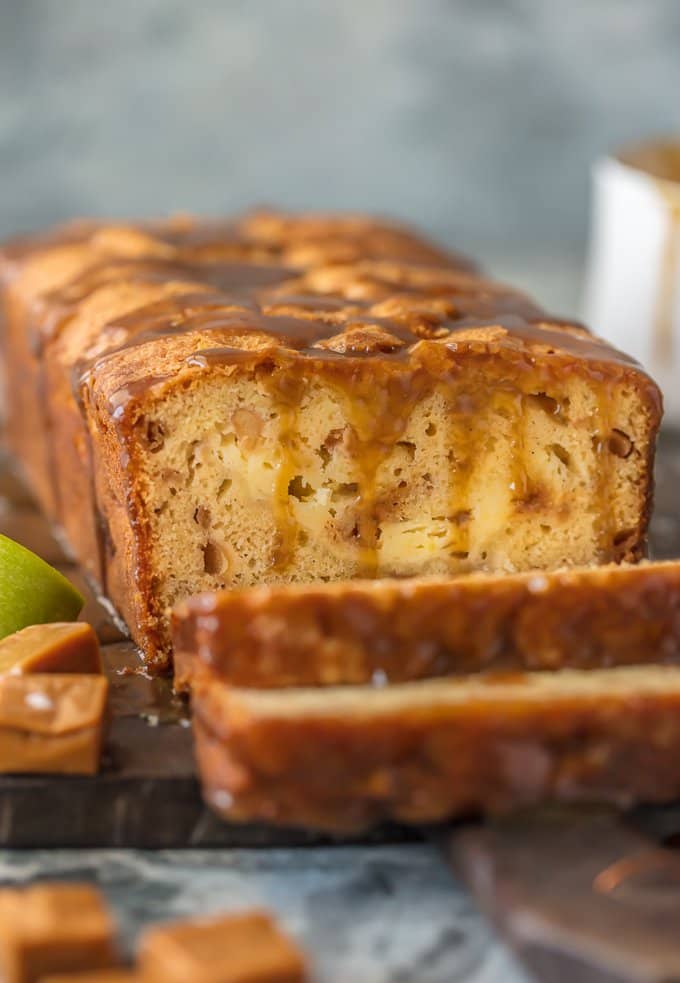 Get ready for Autumn with this Caramel Cheesecake Stuffed Apple Bread. You're going to LOVE IT!!! I hope this recipe is one that will stay in your family for years.
Enjoy!
Ingredients
Instructions
For the Cake:

Preheat oven to 350°F and grease & flour (or spray with baking spray) a 10" x 5½" loaf pan.
In a saucepan over medium heat, add two tablespoons butter, diced apples, nutmeg and cinnamon. Cook 4-5 minutes or until apples have softened. Remove from heat and let cool.
In a medium sized mixing bowl, sift together flour, baking powder and salt.
In a separate large bowl, cream together ½ cup butter and 1-cup sugar. Add eggs, one-at-a-time, beating just until egg yolk is no longer visible. Mix in vanilla and milk. Add dry ingredients in one-cup increments. Mix just until flour is longer visible.
In a medium mixing bowl, combine cream cheese, one egg, ½ cup sugar and the zest of the lemon. Mix until smooth.
Spread 1-cup batter in the bottom of the prepared pan, and fold in the apples and chopped caramels to the remaining batter.
Pour half of the remaining batter into the pan. Spoon & spread the cream cheese mixture evenly over the batter, and cover with the remaining batter. Sprinkle the top of the bread with Turbinado sugar.
Bake at 350°F for 50-60 minutes. Bread is done when it doesn't wiggle when shaken lightly and springs back when gently pressed in the thickest part.
Transfer bread to a cooling rack and cool 15 minutes. Remove bread from pan and allow to completely cool.

For the Glaze:

Melt butter in a small saucepan over medium-low heat. Stir in brown sugar and cook until brown sugar melts. Add salt and heavy cream. Cook (and stir) another 2 minutes. Allow glaze to cool 5 minutes before using. Drizzle glaze over cooled bread and, if desired, sprinkle with honey roasted pecans.
Enjoy!
7.6.4
2436
https://www.thecookierookie.com/caramel-cheesecake-stuffed-apple-bread/

JOIN OUR MAILING LIST
TO GET COOKING!
Subscibe to recieve all the latest, greatest, and EASIEST recipes sent straight to your email inbox. If we post something yummy, you'll be the first to know.