Slow Cooker Chicken Marsala – easy, saucy and flavorful slow cooked chicken in marsala sauce!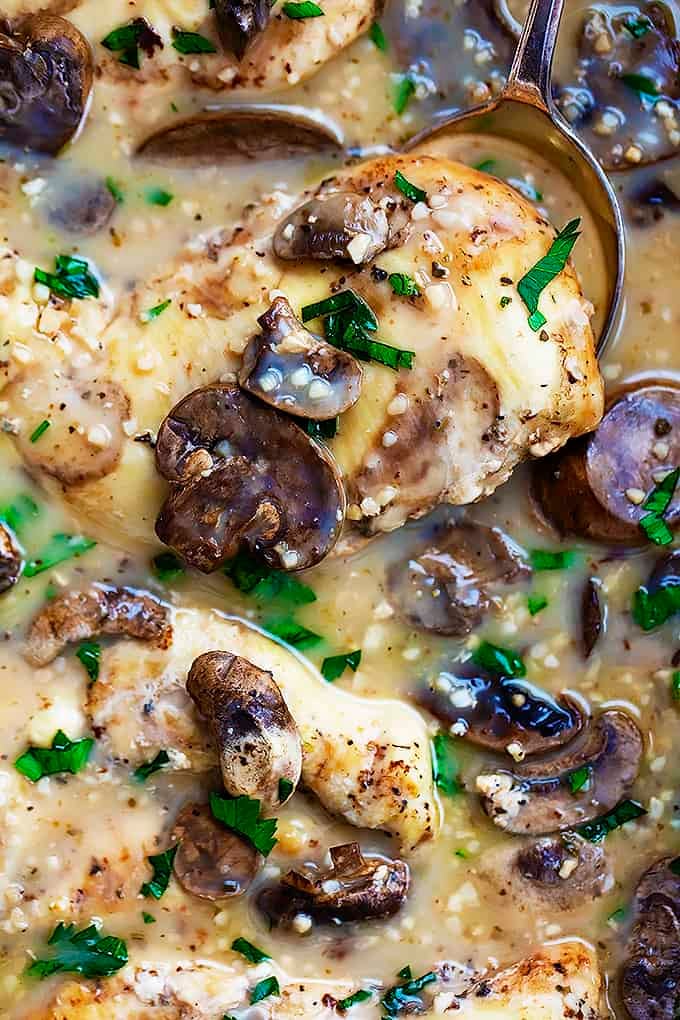 Thank the heavens above it's Sunday. If we're being 110 percent honest, this weekend has not been my favorite. Sometimes stupid things happen and when all is said and done, it just bites.
Let me tell you a very quick, watered down story about my Saturday morning.
Our new fridge (a story in and of itself) has a shelf in it that was just the right height to push on the lever for our 2-gallon water jug. We didn't realize this of course. So we grabbed a glass of water before going to bed on Friday night, like we always do, enjoyed a few re-runs of Last Man Standing, and slipped into a blissful, ignorant slumber. Meanwhile, back at the fridge, water leaked all over our wood kitchen floor all. night. long. and the next morning we discovered a very soggy, very warped floor. It could be worse. It's not the end of the world. But It still hurts to realize your just-barely-finished kitchen (seriously. the day before you guys, the day before…) remodel is now expanding.
Gahhhhh. So close, and yet so far.
On a much, much happier note —> slow cooker chicken marsala! This stuff. It's SO good! Incredibly easy with just a few minutes of prep and that creamy sauce is heavenly. It's easy peasy and crazy delicious meals like this that get me through stressful weeks. I could use a few more like this after our kitchen disaster. Good thing my husband was as big of a fan of this chicken marsala as I am because it's going right back on the menu this week!
Slow Cooker Chicken Marsala
Author: Tiffany
Recipe type: Main Dish
Cuisine: Italian
Serves: 4
Ingredients
4 boneless skinless chicken breasts
salt and pepper to taste (I used about ½ teaspoon of each)
2 teaspoons minced garlic
1 cup sliced mushrooms
1 cup sweet marsala cooking wine (may sub chicken broth in a pinch)
½ cup water
¼ cup cornstarch
fresh parsley, roughly chopped
Instructions
Lightly greasy your slow cooker with nonstick spray. Season chicken with salt and pepper and place in the bottom of your slow cooker.
Top chicken with garlic, mushrooms, and marsala wine. Cover and cook for 5-6 hours on low.
Use a slotted spoon to transfer chicken to a plate. Whisk together water and cornstarch til dissolved, then pour into slow cooker and stir.
Add chicken back to slow cooker, switch heat to high, cover and cook another 20-30 minutes until sauce is thickened. Taste and add salt and pepper as needed. Sprinkle with parsley and serve.
3.3.3077
Recipe slightly adapted from Tablespoon.
You'll love these super popular slow cooker dishes too!
Related